'Ghostbusters 3' Still A Thing Hollywood Is Trying To Make Happen, Etan Cohen Hired To Write Script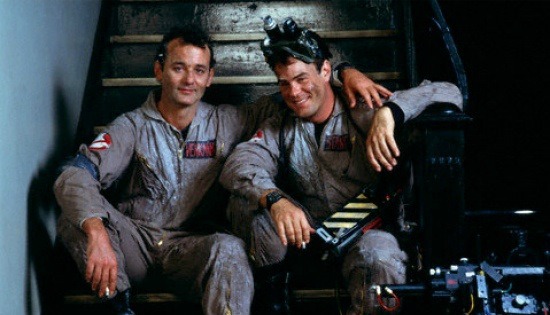 Ghostbusters 3's ability to roar back from all-but-certain death is getting to be downright supernatural. After years of on-again, off-again development, Dan Aykroyd finally acknowledged back in February that the film was in "suspended animation." But Bill Murray (who, it should be noted, has previously been the holdout) set the rumor mill churning again by refusing to rule out the possibility and saying "we'll try again" to bring the project to life. Indeed, just weeks after he made that comment, news broke that a new writing staff had been hired to try again with the script.
Today, we've learned that the scribe tapped to work on the screenplay is none other than Etan Cohen, who most recently worked on the late-arriving threequel for another Sony action-comedy franchise, Men in Black 3. Yes, that's Etan Cohen, not Ethan Coen, if there was any confusion. Read more details after the jump.
Cohen will be taking over from The Office writers Lee Eisenberg and Gene Stupnitsky. The pair were hired in 2008 to write, but hit a serious roadblock when their script couldn't pass muster with Murray. It's unclear how much of their work will carry over to Cohen's version. While the studio hasn't had the easiest time getting a third Ghostbusters off the ground, it's really no wonder they're so hell-bent on trying. When the first Ghostbusters opened in 1984, it was Columbia Pictures' highest-grossing film of all time. And unlike some '80s properties angling for a comeback, the Ghostbusters haven't been forgotten in the decades since.