Krang, Bebop, And Rocksteady To Be Featured In 'Ninja Turtles'?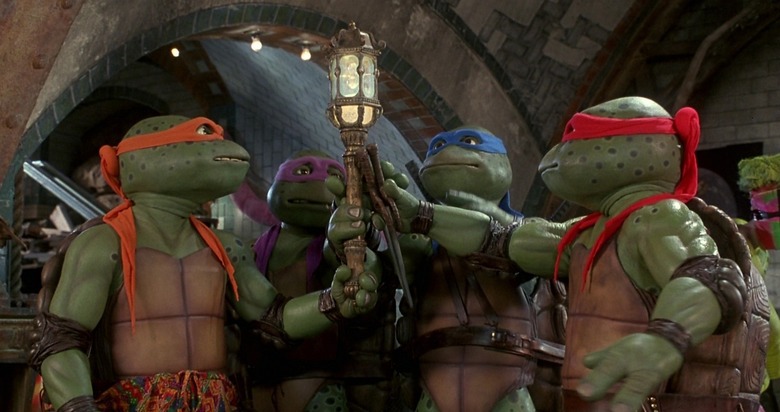 Michael Bay sparked some predictable fan outrage a few months ago by revealing that his live-action Ninja Turtles feature would scrap the "Teenage Mutant" part of the characters' identities altogether. But it sounds like his other plans for the heroes in a half-shell were a bit more familiar.
According to an outlet that's read the script, the Jonathan Liebesman-directed film would've featured some very recognizable Ninja Turtle figures and locales, like villains Krang, Bebop, and Rocksteady, Krang and Shredder's Technodrome lair, and their home Dimension X. Perhaps those elements will remain the same after the much-publicized reworking, and perhaps not. Read more after the jump.
Reading a script called THE BLUE DOOR by Nemec & Applebaum. THE BLUE DOOR is the secret code name for TEENAGE MUTANT NINJA TURTLES!

— elmayimbe (@elmayimbe) June 18, 2012
Skimming through Turtles, I see KRANG and THE TECHNODROME RT

— elmayimbe (@elmayimbe) June 18, 2012
Skimming through, I also see BEBOP and ROCKSTEADY and see something called DIMENSION X. RT

— elmayimbe (@elmayimbe) June 18, 2012
Those names should ring a bell for pretty much anyone who's ever been a fan of the Turtles. That could be an encouraging sign for anyone who feared the new Bay-produced version would stray too far from its source material. On the other hand, El Mayimbe doesn't give specifics about how the characters and locations are used, so I suppose there's no guarantee that the new film won't tweak their backstories and characteristics beyond recognition as well. For example, since the plan is apparently to turn the Turtles into aliens, it seems plausible that the villains could be reworked as extraterrestrials as well.
CBM also picked up a synopsis of the film, which they report has been confirmed to them by "a very reliable source":
After their planet's destruction, four turtle-like alien warriors and their master come to Earth, where they join forces with reporter April O'Neil to prevent the extradimensional conqueror Krang from enslaving the human race.
Keep in mind that "script issues" were cited as one reason for Paramount's recent decision to push the film from December 2013 to May 2014, which means that the script El Mayimbe read, or the plot summary that CBM noted, could be undergoing significant alterations as we speak. Who knows — maybe the irate reception to the alien idea means the filmmakers will turn the turtles teenage and mutant again after all.
But it should give fans some idea of what Paramount, Bay, and Liebesman had in mind for the Turtles. In broad strokes, the "saving the world from Krang" plotline isn't too different from what we've seen the Turtles do before. But their updated outer-space origins seem to play a significant role in the film, which suggests that they're trying hard to put a new spin on it, for better or for worse.