'Breaking Bad' Promo Roundup: Watch A Trailer, Behind-The-Scenes Video, And Clip From Season 5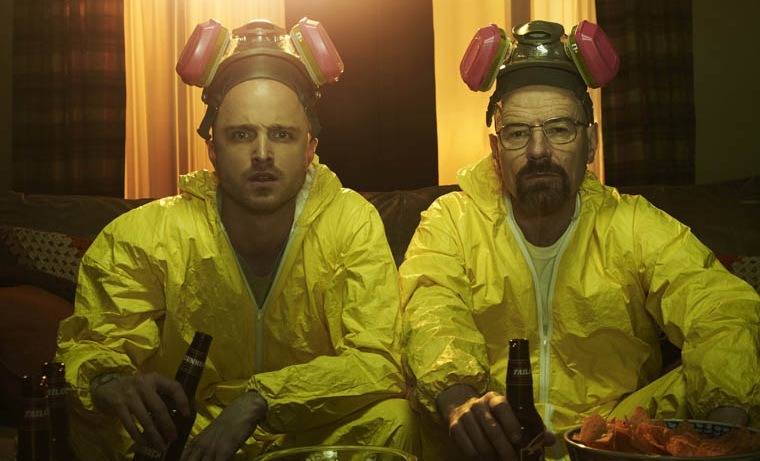 Even by Breaking Bad standards, the explosive Season 4 finale was one of the most intense the series had ever done — so we're extra pumped to see what else creator Vince Gilligan have planned for Walter White (Bryan Cranston), who these days is definitely more Scarface than Mr. Chips.
With less than a week to go until the fifth season premiere, AMC is cranking up their Breaking Bad marketing. Today, we've got a new trailer, a behind-the-scenes video, and a sneak peek clip after the jump. Major spoilers for Season 4 abound, so if you're not caught up I suggest you walk away and get yourself up to speed ASAP. We'll still be here when you get back.
Walter looks awfully pleased with himself, doesn't he? I suppose he's earned it. His grand plan at the end of Season 4 was masterfully orchestrated, if horrifying to behold, and he's now on top. But this being Breaking Bad, I suspect the happy ending won't be a long-term thing. It can't be long before it all goes terribly wrong again.
Even more revealing is this new behind-the-scenes vid featuring Gilligan, Cranston, and stars Aaron Paul, R.J. Mitte, Dean Norris, Betsy Brandt, and Anna Gunn. "Just when you think it can't get any bigger, badder, darker, it all does," Gunn promises:
[via The Playlist]
It's interesting to see that Jesse's on good terms with Mr. White again, especially knowing what we do about the secrets the latter has been keeping from the former. The fact that Season 5 will be the last of the series only ups the ante. Will this be when Jesse finally learns what really happened to Jane and Brock?
Finally, here's a brief look at the first episode of Season 5, titled "Live Free or Die." No timejumps here — it seems to pick up literally minutes after the events of the Season 4 finale.
[via Screen Rant]
And there's yet another shoe waiting to fall: Walter Junior's bound to find out about his dad's real profession sooner or later, right?
Breaking Bad's fifth season premieres this Sunday, July 15 at 10/9c.