Anthony Hopkins Will Be Methuselah To Russell Crowe's 'Noah'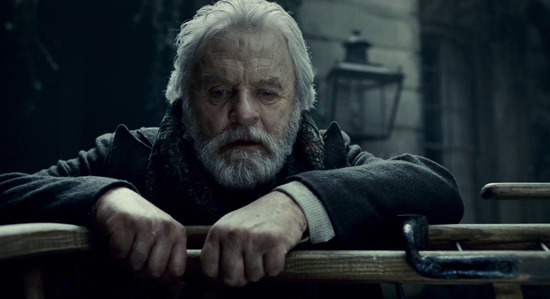 Director Darren Aronofsky joined Twitter not long ago, and has been sending the occasional short missive from Iceland as he shoots Noah. The film stars Russell Crowe as the title figure, and also features Emma Watson, Jennifer Connelly, Logan Lerman, Ray Winstone, and Douglas Booth.
Now Aronofsky has announced that Sir Anthony Hopkins will appear in the movie, and suggests that he is playing Methuselah.
Here's the statement from Aronofsky:
i'm honored to be working with the great sir anthony hopkins. we just added him to the stellar cast of #Noah. #methuselahlives.

— darren aronofsky (@DarrenAronofsky) July 9, 2012
Methuselah is the grandfather of Noah, and the longest-lived person mentioned in the Bible. According to Genesis 5:21-27, Methuselah lived to be 969 years old. He died just before the Great Flood that becomes the core of Noah's story. (The Flood was delayed seven days, as a mourning period for the passing of Methuselah.)
Noah is set for release on March 28, 2014.
NOAH is a close adaptation of the Biblical story of Noah's Ark. In a world ravaged by human sin, Noah is given a divine mission: to build an Ark to save creation from the coming flood. The screenplay was written by Aronofsky and Ari Handel and revised by Academy Award®-nominated screenwriter John Logan (GLADIATOR, HUGO).