Rumor: Disney Is Developing A 'Hocus Pocus' Sequel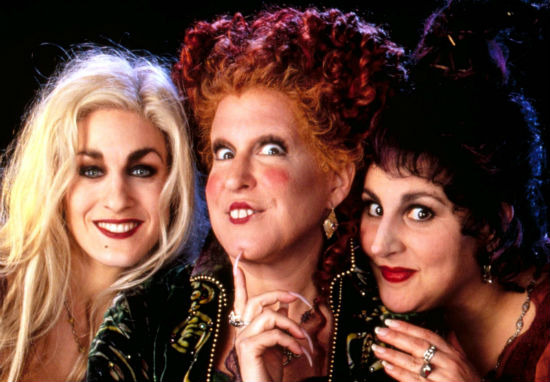 My memories of the 1993 Kenny Ortega film Hocus Pocus are of its purple VHS box sitting on a shelf in my local video store, always rented out. The film starred Bette Midler, Sarah Jessica Parker and Kathy Najimy as witches who terrorize a small town on Halloween and was a moderate hit for Disney, raking in about $40 million at the box office. It still remains a fan favorite among adults who saw it in their formative years too, largely in part to those video rentals.
Almost 20 years later, Moviehole.net reports Disney is developing a sequel called Hocus Pocus 2: Rise of the Elderwitch. Could the witches ride again? Read more after the jump.
says the film is strictly at the development stage and none of the principals are likely to return, however, we're calling it a rumor because a Disney spokesperson denies it. Does that mean it's not true? Not necessarily. If it is, though, expect some kind of official news break soon as Moviehole's source believes Disney wants to have the film out next year.
Now, assuming this is true (which is admittedly a big assumption) there's no indication if it'll be a full theatrical release or a direct-to-DVD project. That likely depends on the cast, which in turn depends on the script.  It's also important to note that since Rich Ross left Disney, the company has slowly started moving away from the huge mega blockbusters. Maybe a moderately priced nostalgic trip like this is the new direction the studio is taking. If that's the case, I think it's probably a smart move.
And what do you make of the title, Rise of the Elderwitch? For me, it obviously signifies an expansion of the Hocus Pocus universe, hinting as some supreme being, but also sounds suspiciously like something from Lord of the Rings.  That will make a marketing team happy.
Do you have fond memories of Hocus Pocus? Do you think this is a smart move if it's happening?