'The Dark Knight Rises' New Images, IMAX Teaser, And Very Vague Finale Info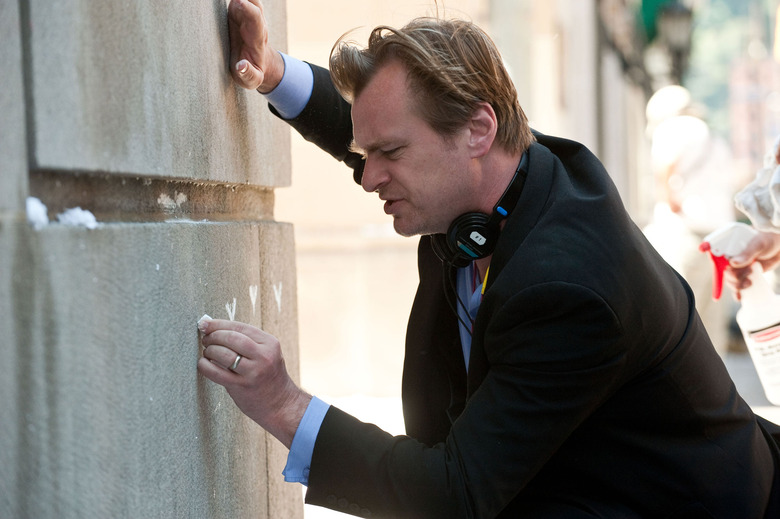 With apologies to Spider-Man, as Comic Con approaches the film that everyone seems to be talking about is The Dark Knight Rises. Christopher Nolan's third and final Batman movie has been the subject of years' worth of speculation, and now that the film is two weeks away from release, interest in the picture is higher than ever.
And so today we've got some great new photos, some of which show Nolan at work on set, as well as a new IMAX teaser. There was even a screening of the film in the last 24 hours, and while some of the reactions to that have been scrubbed from Twitter, the general reaction was very positive; a standing ovation was mentioned.
We do, however, have some info from a new article that seems to be based on a screening of the film, and it has some promising teases.
First, here are the new pics, some of which come from the LA Times.
The paper's Hero Complex site also offers a pretty complete rundown of the early first act of The Dark Knight Rises. The LAT proclaims of this finale,
The third act of the third film delivers a series of jolting twists and jarring turns and an exclamation point climax. Nolan's finale takes Batman and his on-screen mythology to a place it has never been before.
There's quite a bit more to the article, including some comments about how the plot points of this film and the trilogy in general relates to the architecture of Gotham City and other locations in the films, but I'll leave those bits out of this recap, and those who want to check out Nolan and the LAT's comments can head to the link above.
Finally, here's the latest IMAX teaser: