'Rise Of The Guardians' Trailer: Hugh Jackman Is A Grumpy Easter Rodent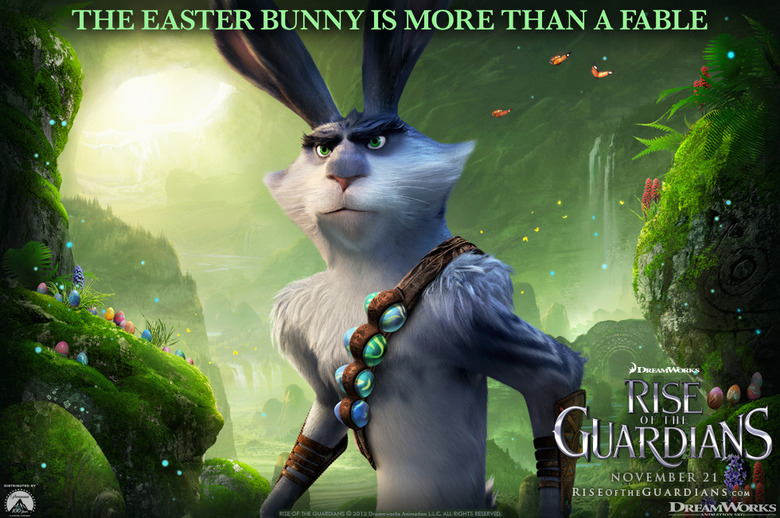 Ever wanted to see the Easter Bunny incarnated as an angry Australian rodent kangaroo bunny, voiced by Hugh Jackman? If so, Rise of the Guardians is going to be a treat. The film adapts William Joyce's book in which modern mythological figures such as Santa Claus (Alec Baldwin), the Tooth Fairy (Isla Fisher), the Sandman (Tom Kenny), and the aforementioned bunny recruit Jack Frost (Chris Pine), to save the world.
We've seen a bit of footage in the past from this latest DreamWorks Animation offering, but a new trailer for Rise of the Guardians is the most substantial look at the film to date. As has been the case with other recent work from DreamWorks, the animation is very technically accomplished, and there's a liveliness to some of the camerawork that I really like. Whether the story works will be a different matter, but there's enough cute work from the voice actors that it might be worth a look for that alone.
Apple has the trailer. Rise of the Guardians opens on November 21.
RISE OF THE GUARDIANS is an epic and magical adventure that tells the story of Santa Claus, the Easter Bunny, the Tooth Fairy, the Sandman, and Jack Frost – legendary characters with previously unknown extraordinary abilities. When an evil spirit known as Pitch lays down the gauntlet to take over the world, the immortal Guardians must join forces to protect the hopes, beliefs and imagination of children everywhere.