San Diego Comic-Con Exclusive: Tom Whalen, Dave Perillo And Tim Doyle Do 'Land Of The Lost,' 'Yo Gabba Gabba,' ' H.R. Pufnstuf' And 'The Aquabats'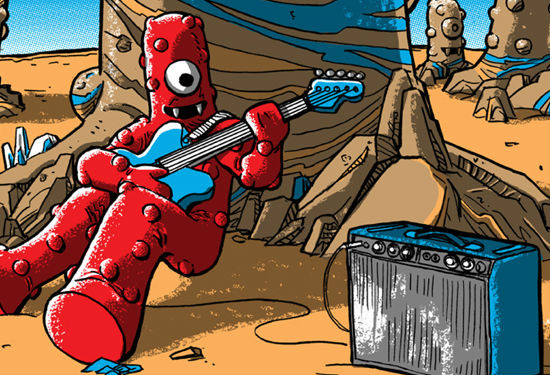 San Diego Comic-Con is many things to many people. For collectors, it's both an opportunity to find something they've long desired and pick up new things that will only be for sale those four days. Action figures, ornaments, books, comics; you name the category, and there's a Comic-Con exclusive.
With the limited edition poster craze lead by Mondo, Gallery 1988 and others, posters are becoming highly-sought after Comic-Con exclusives. This year, Mondo will again have their own booth filled with limited edition, exclusive delights; artist Kevin Tong will have his own booth for the first time ever; and three popular artists, Tim Doyle, Dave Perillo and Tom Whalen, will have have limited editions screenprints at the Huckleberry booth.
Presented by popular retailer Toddland, the aforementioned artists have done prints interpreting the TV shows Land of the Lost, Yo Gabba Gabba. H.R. Pufnstuf and The Aquabats. We're proud to exclusively premiere them below.
Here are the Huckleberry/Toddland exclusive Comic-Con posters, which will be available at booth #3449. Specifics are below.
The Whalen Land of the Lost and Perillo Pufnstuf were previously released, but the others are exclusive to /Film. Here are the particulars:
Tom Whalen's Land of the Lost print
- regular edition (green) of 125 pcs, $60
- variant edition (purple) of 75 pcs $85
Tim Doyle's Yo Gabba Gabba Muno print
- 1st in the series of Tim Doyle Yo Gabba Gabba Prints
- regular edition of 130 pcs, $40.00
- variant edition (glow in the dark ink) of 30 pcs, $60.00
Dave Perillo's The Aquabats! print
- regular edition of 150 pcs, $25.00
- variant (The Sandfleas!) edition of 40 pcs, $35.00
Dave Perillo's H.R. Pufnstuf print
- regular edition (blue) of 125 pcs, $50.00
- variant edition (red) of 75 pcs, $75.00
The booth will have a ton of other stuff too, including Adventure Time, so head to Huckleberry and Toddland to find out more. And don't forget to visit their booth, #3449.