First Images: Charlie Hunnam And Rinko Kikuchi In Guillermo Del Toro's 'Pacific Rim'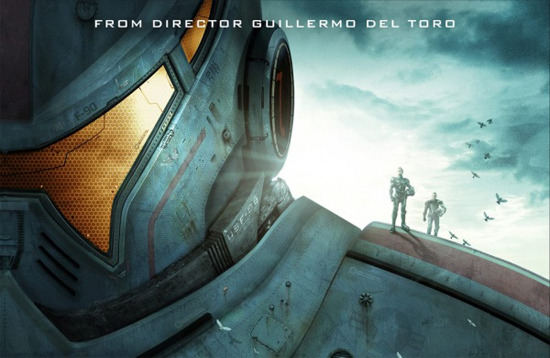 Update: A new image has been released in Entertainment Weekly, and has been added after the jump. Original story follows.
With Comic Con just a week away, new looks at a lot of geek-friendly films are landing online. The latest is a new image from Guillermo del Toro's "giant monsters versus giant robots" movie Pacific Rim. Last year at Con we knew only about casting, and the director and screenwriter Travis Beacham talked about what they'd planned for the movie. ("The finest f***ing monsters ever committed to screen and... the greatest f***ing robots ever committed to screen," as you might recall.)
Now we've seen an image here and there, and this new pic might be our best look yet at the suits the human characters will sport in the movie. Charlie Hunnam (Sons of Anarchy) and Rinko Kikuchi (The Brothers Bloom) have some serious battle armor  But those who saw the first image of Idris Elba already knew to expect something like this. Get the full image below.
The image comes from EW via STYD and BleedingCool:
There's more to the movie that just montsers, robots, and shiny armor. As Guillermo said last year,
There's much more to it than the giant monsters and giant robots. We want to make it a big what if: what would happen in the real world if a twenty-five story thing came out of the sea and started destroying cities? How would the world change? What weapons do we need to develop to fight a thing like that? It's not a fantastic distant future to which we have no relationship. We wanted to make it in the now.
The designs we've seen for the film so far look great, and Pacific Rim is high on the list of films I'm curious to check out at Comic Con. I tend to like the director's weirder Spanish-language films more than his studio output, and I hope this can bridge the gap between those two halves of his filmography.
Also starring Charlie Day, Pacific Rim is scheduled to open July 12, 2013.
Synopsis:
When legions of monstrous creatures, known as Kaiju, started rising from the sea, a war began that would take millions of lives and consume humanity's resources for years on end. To combat the giant Kaiju, a special type of weapon was devised: massive robots, called Jaegers, which are controlled simultaneously by two pilots whose minds are locked in a neural bridge. But even the Jaegers are proving nearly defenseless in the face of the relentless Kaiju. On the verge of defeat, the forces defending mankind have no choice but to turn to two unlikely heroes-a washed up former pilot (Charlie Hunnam) and an untested trainee (Rinko Kikuchi)-who are teamed to drive a legendary but seemingly obsolete Jaeger from the past. Together, they stand as mankind's last hope against the mounting apocalypse.