Warner Bros. Presents Outdoor Entertainment Festival Outside Of San Diego Comic-Con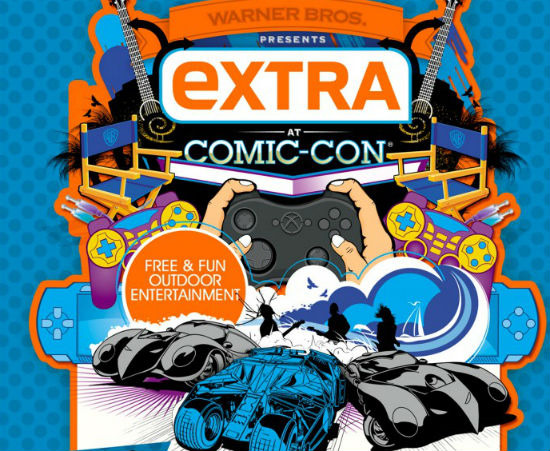 Despite not bringing The Dark Knight Rises, which opens the week after, Warner Bros. has obviously made this year's San Diego Comic-Con a priority. Their movie panel will take up 2.5 hours of time in Hall H Saturday promoting The Hobbit: An Unexpected Journey, Pacific Rim and Man of Steel. Their TV shows such as The Big Bang Theory and Fringe will also be in Hall H and new shows like Arrow, The Following, Cult, Revolution and 666 Park Avenue will all have a presence and some screenings.
But wait, there's more. Warner Bros. will present a massive outdoor entertainment festival called Extra at Comic-Con on the lawn behind the convention center and in front of the San Diego Hilton Bayfront. Screenings, interviews, video game demonstrations, Batmobiles and much more will be in the spotlight there throughout the weekend. Read more about it below.
Here's the flyer for Extra at Comic-Con which gives you an idea of what's going down. And you can head to the official site for more information.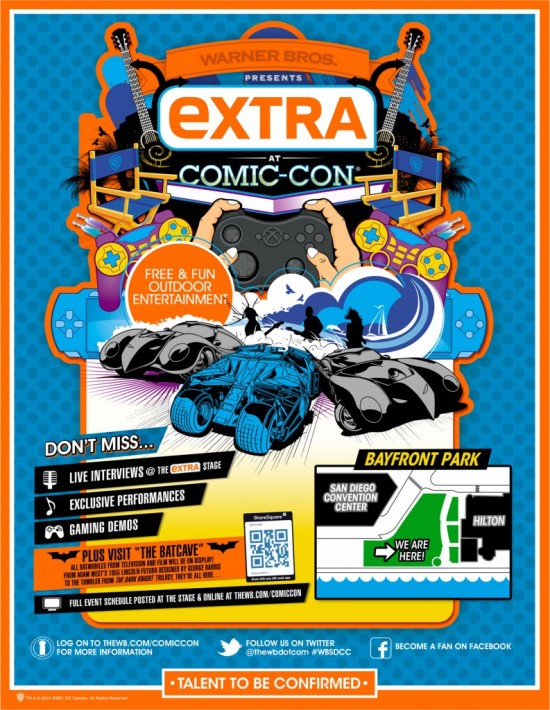 The aim is to give people who can't be inside the festival their own Comic-Con atmosphere outside. Having the TV show Extra doing live updates and interviews on stage will help draw crowds, as well the sure to be innumerable photo ops.
If anything cool happens, you'll definitely read about it here on the site as most of us will have to traverse this madness to get from our hotel to the convention center.
Here's the full press release:
For the first time ever, Warner Bros. Entertainment will presentExtra at Comic-Con®, a free outdoor entertainment festival happening in San Diego's Bayfront Park July 12–14 during Comic-Con International: San Diego. Bayfront Park is located between the San Diego Convention Center and the Hilton San Diego Bayfront hotel.
Located just steps from the Convention Center, Extra at Comic-Con will be a live, multi-day entertainment experience capturing all the excitement of the Studio's fan-facing properties: FromThe Lord of the Rings to the DC Universe, they're all here!
To download Extra at Comic-Con artwork, click here: http://bit.ly/M0wdxR
"Everyone at Warner Bros. Television approaches Comic-Con as a fan-first experience. It's in our DNA, with everything we do — from panels to signings to our bags, posters and more — carefully curated with our fans in mind," said Lisa Gregorian, Chief Marketing Officer, Warner Bros. Television Group. "With the Extra at Comic-Con space, we have created a free and fun outdoor entertainment destination for fans. In addition to having all the Batmobiles on display and game demos, we will be hosting interviews throughout the day on the Extra stage, as well as evening and night events such as screenings and live comedy and musical performances after the convention floor closes for the day. It's additive to the experience of being at the Con."
Extra at Comic-Con attractions include:
THE EXTRA STAGE
The centerpiece of this 60,000-square-foot outdoor entertainment event is the Extra stage. Featuring Q&As, live performances, screenings and talent interviews presented by the long-running hit TV entertainment magazine Extra, the stage will be a constant — and free — place for fans to go beyond the Con.
Stars from The Big Bang Theory, Fringe, The Vampire Diaries and more will appear live on theExtra stage to tape interviews with Extra's on-camera hosts
Warner Bros. will also distribute the studio's Comic-Con special edition of TV Guide Magazine — with four sets of collectible flip covers featuring the casts of The Big Bang Theory, Fringe, Supernatural and The Vampire Diaries — at the Extra stage
A full live event schedule will be posted at the Extra stage and online atwww.thewb.com/comiccon
ALL SIX BATMOBILES!
On display in "The Batcave": all six Batmobiles from television and film! For the first time ever, Comic-Con fans will have the opportunity to see all of Batman's iconic onscreen vehicles live and in person, from Adam West's 1955 Lincoln Futura to the Tumbler from The Dark Knight trilogy.
Adam West's 1955 Lincoln Futura. Designed by George Barris, this original Batmobile was featured in the cult classic television series and 1966's Batman, the Movie.
Michael Keaton's Batmobile from 1989's Batman and 1992's Batman Returns. Sleek and powerful with a central turbine, the vehicles' slightly retro design followed Tim Burton's art deco look of the films.
Revamped for Joel Schumacher's 1995 Batman Forever, with bat-lighting and extended fins, Val Kilmer's hot rod had the ability to drive up walls.
Schumacher updated the Batmobile once again for George Clooney in 1997's Batman & Robin.At 33 feet long and a top speed of 350 mph with afterburner thrust, this was the largest and fastest Batmobile on the road.
The Tumbler designed for Christopher Nolan's 2005 Batman Begins and 2008's The Dark Knightis the prototype military vehicle designed by the character Lucius Fox (Morgan Freeman).
The unveiling of the replacement Camouflage Tumbler, to be seen in 2012's The Dark Knight Rises, in theaters and IMAX July 20.
THE LORD OF THE RINGS VIDEO GAME SHOWCASE
With anticipation mounting for Warner Bros. Pictures' December 14, 2012, release of The Hobbit: An Unexpected Journey motion picture, directed by Peter Jackson and a production of New Line Cinema and MGM, Warner Bros. Interactive Entertainment is showcasing two upcoming games set in Middle-earth.
Fans can play hands-on with new video game Guardians of Middle-earth as characters including Gandalf, Sauron, Gollum, Thrain, Galadriel, Legolas and many more. This new multiplayer online battle arena (MOBA) game allows up to 10 players to engage in competitive matches. The game includes tie-ins with The Hobbit: An Unexpected Journey film. Tournaments will take place each evening, with prizes including custom-painted video game console systems and high-end gaming audio gear.
LEGO® The Lord of the Rings: 3D Street Art. From the creative minds at Planet Streetpainting comes a one-of-a-kind, LEGO The Lord of the Rings–inspired 3D street art design that will be created and on display for fans of all ages over the course of three days, July 13–15. Stop by each day and watch the artwork unfold!
For additional information about Warner Bros. Television activities at Comic-Con, follow us on Twitter@TheWBdotcom (hashtag #WBSDCC) and visit www.thewb.com/comiccon.