Here's Naomi Watts As Princess Diana In 'Caught In Flight'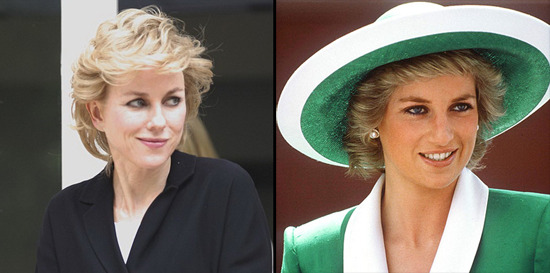 Naomi Watts was once set to play Marilyn Monroe in Andrew Domink's film Blonde. That film was delayed, but could still happen, and we don't know if Watts will still be in the lead role when (if) it does shoot. But the actress nabbed the lead role in another film that looks at an influential figure in history: she's playing Diana, Princess of Wales in Caught in Flight, directed by Oliver Hirschbiegel (The Invasion, Downfall).
Watts replaced another actress, as Jessica Chastain was once tipped for the role. The image above is one of the first of Watts in character as the late Royal, and she looks just enough like her subject to suggest that Watts was a good choice for the gig. (Also a good choice: whoever is styling her hair into Di's signature look.) Check out another pic below.
The film focuses on the last two years of Di's life, ending with her death in an auto accident in Paris, reportedly instigated by over-zealous paparazzi. Written by Stephen Jeffreys, the film features the aftermath of Di's 1995 divorce, and her relationship with heart surgeon Dr. Hasnat Khan. According to early word on the script, Caught in Flight "charts how finding true personal happiness for the first time allowed her to achieve her defining successes evolving into a major international campaigner and humanitarian." [Kinopoisk and THR]