'Quartet' Trailer: Dustin Hoffman Directs A Cute Old-Timers Romp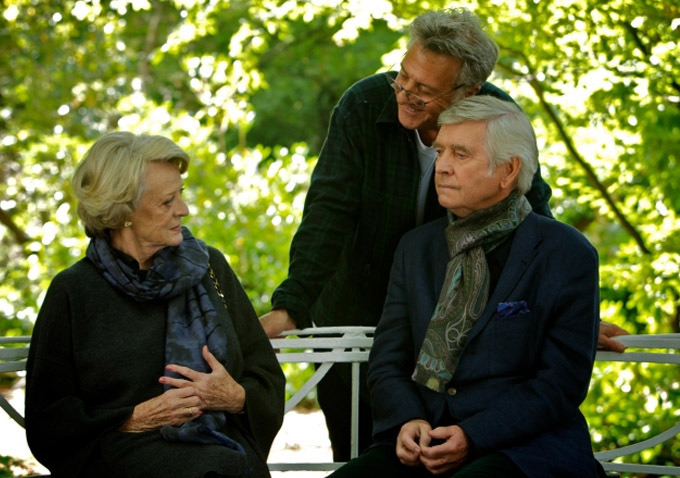 Dustin Hoffman has long been established as one of the most significant actors of his generation, but he has never directed a film until now*. His directorial debut, Quartet, is based on an acclaimed play by Ronald Harwood (who also scripted Hoffman's film) and it stars some real luminaries: Maggie Smith, Billy Connolly, Pauline Collins, Tom Courtenay and Michael Gambon.They play residents at a retirement home for retired opera singers. Seriously.
Given that plot you might expect something fairly arid and stodgy, but the first trailer for Quartet suggests that it is a pretty broad comedy with crowd-pleasing aims. The trailer promises a gentle, slightly cheeky good time, and it's a nice breath of comedy to kick off this light holiday week. Check it out below.
Edit: Apologies, but we've had to pull the embed.
[We've removed the trailer at the request of The Weinstein Company.]
Lifelong friends Wilf and Reggie, together with former colleague Cissy, are residents of Beecham House, a home for retired opera singers. Every year on Giuseppe Verdi's birthday, the residents unite to give a concert to raise funds for their home. But when Jean Horton, a former grande dame of the opera fallen on hard times, also Reggie's ex-wife and the fourth and most celebrated member of their former quartet, moves into the home to everyone's surprise, the plans for this year's concert start to unravel.
As old grudges threaten to undermine past glories and theatrical temperaments play havoc with the rehearsal schedule, it becomes apparent that having four of the finest singers in English operatic history under one roof offers no guarantee that the show will go on.
Quartet doesn't have a US release date at this point, but it hits the UK on November 2. [The Playlist]
*Hoffman never having directed a film isn't for lack of trying, as he started off directing himself in the '78 release Straight Time, but handed the film off to another director just after the film began shooting.