Saturday At Comic-Con 2012 Features 'Man Of Steel,' 'Django Unchained,' 'After Earth,' 'The Hobbit,' 'Iron Man 3' And More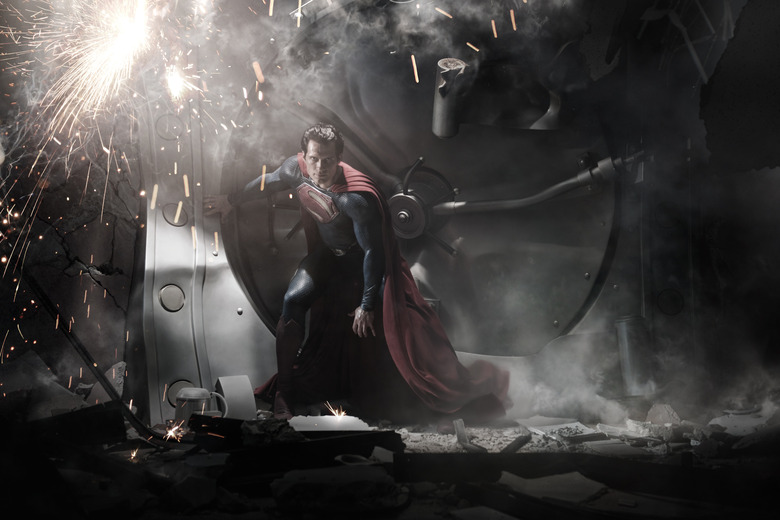 One word can be used to described the Saturday schedule of San Diego Comic-Con 2012: "Wow." Whereas Thursday and Friday are merely peppered with highlights, Saturday is jam-packed full of presentations sure to make your heat spin. We'd heard Warner Bros. would be bringing The Hobbit and Pacific Rim to the Con, but they're also bringing Man of Steel. We'd heard Quentin Tarantino was coming to Con with Django Unchained, and that's now confirmed. Details from M. Night Shyamalan's Will Smith movie, After Earth, will be revealed. Kevin Smith will have Hall H to himself for two hours to talk about whatever he wants. Oh, and Marvel has an hour to talk Iron Man 3 and whatever else they want. Guess what? That's not even close to a full list of events.
After the jump, check out a few of the Saturday movie and TV highlights and link to the full schedule.
Click here to see the full Saturday schedule at San Diego Comic-Con. Below are some of the highlights.
10:00-11:00 After Earth— Enter the world of After Earth with an in-depth panel that gives you a behind-the-scenes look at the universe of the upcoming film and comic book. With the film now in post-production and set to hit theaters next June, screenwriter Gary Whitta (Book of Eli) and director of photography Peter Suschitzky (The Empire Strikes Back) will discuss the making of the film. They will be joined by comic book artist Beni Lobel (Spanish horror comic anthology Cthulu; G.I. Joe comic books; Torchwood: Web of Lies motion comic), and writers Robert Greenberger (Iron Man, Batman, and Hellboy novels) and Michael Friedman(Star Trek and X-Men novels) — the creators of the comic book After Earth: Innocence, which will introduce Kitai and Cypher Raige (played by Jaden and Will Smith in the After Earth film). Also joining the panel is Eisner Award winner Peter David (Star Trek novels and comic books; The Incredible Hulk), who is writing the After Earth prequel novel and also created theAfter Earth bible with Greenberger and Friedman.
 In After Earth, one thousand years after cataclysmic events forced humanity's escape from Earth, Nova Prime has become mankind's new home. Legendary General Cypher Raige (played by Will Smith) returns from an extended tour of duty to his estranged family, ready to be a father to his 13-year-old son, Kitai (played by Jaden Smith). When an asteroid storm damages Cypher and Kitai's craft, they crash-land on a now unfamiliar and dangerous Earth. As his father lies dying in the cockpit, Kitai must trek across the hostile terrain to recover their rescue beacon. His whole life, Kitai has wanted nothing more than to be a soldier like his father. Today, he gets his chance. Room 6A
11:30-12:30 Save the Date: Your New Favorite Film— This may be the first comic book film that isn't based on an actual comic book; instead, Save the Date uses the style and sensibility of indie comics by renowned graphic novelist Jeffrey Brown as a jumping off point to tell a contemporary story of the trials, pain, and happiness of modern love. Explore the challenges and advantages of working in film versus comics with cartoonist/screenplay co-writer Jeffrey Brown (Clumsy, Darth Vader and Son), director Michael Mohan (One Too Many Mornings), and producers Jordan Horowitz (The Kids Are All Right) and Michael Roiff(Waitress), and discover how the cast has been influenced and inspired by comics and geek culture, with Lizzy Caplan (Party Down), Alison Brie (Community, Mad Men), Martin Starr(Freaks & Geeks, Party Down), Geoffrey Arend (500 Days of Summer), and Mark Webber(Scott Pilgrim). Join them for a lively session moderated by Noel Murray (The A.V. Club).Room 5AB
11:30-12:30 Quentin Tarantino's Django Unchained— The Weinstein Company presents a sneak peek at the highly anticipated new film from acclaimed director Quentin Tarantino. Fans will get to see exclusive footage from Django Unchained and take part in a special discussion with Tarantino and the cast. You won't want to miss this! Hall H
12:45-1:45 Open Road Films: End of Watch and Silent Hill: Revelations 3D— Global exclusive! Catch an early look at the highly anticipated action film End of Watch, with special guests Academy Award nominee Jake Gyllenhaal and Michael Peña who play police officers patrolling the meanest streets of south central Los Angeles, and writer/director David Ayer(Training Day). Also, based on the groundbreaking video game franchise from Konami, Silent Hill: Revelation 3D is the sequel to the hit film Silent Hill. Experience the world premiere of 3D footage from an unparalleled horror experience with special guests Adelaide Clemens (X-Men Origins: Wolverine), Kit Harington (HBO's Game of Thrones), director Michael J. Bassett, and producer Samuel Hadida. Hall H
1:45-2:30 Family Guy— Seth MacFarlane, Alex Bornstein, Mila Kunis (Black Swan, Book of Eli), Seth Green (Robot Chicken), Mike Henry, and showrunners Mark Hentemann andSteve Callaghan offer a sneak peek at Family Guy's funniest scenes from the upcoming new season, followed by a freakin' sweet Q&A with the audience. Ballroom 20
2:00-3:00 Trailer Park I— See the latest in trailers from your upcoming soon-to-be-favorite films, including some in 3D (glasses provided, but please give them back as you exit the hall).Hall H
2:30-5:00 Warner Bros. Pictures and Legendary Pictures Preview Their Upcoming Lineups—
Legendary Pictures: Pacific Rim-From acclaimed filmmaker Guillermo del Toro comes Warner Bros. Pictures' and Legendary Pictures' epic sci-fi action adventure Pacific Rim. When legions of monstrous creatures, known as Kaiju, started rising from the sea, a war began that would take millions of lives and consume humanity's resources for years on end. To combat the giant Kaiju, a special type of weapon was devised: massive robots, called Jaegers, which are controlled simultaneously by two pilots whose minds are locked in a neural bridge. But even the Jaegers are proving nearly defenseless in the face of the relentless Kaiju. On the verge of defeat, the forces defending mankind have no choice but to turn to two unlikely heroes — a washed up former pilot (Charlie Hunnam) and an untested trainee (Rinko Kikuchi) — who are teamed to drive a legendary but seemingly obsolete Jaeger from the past. Together, they stand as mankind's last hope against the mounting apocalypse. Pacific Rim also stars Idris Elba, Ron Perlman, and Charlie Day.
Warner Bros. Pictures: Man Of Steel
The Hobbit: An Unexpected Journey-From Academy Award-winning filmmaker Peter Jackson comes The Hobbit: An Unexpected Journey, a production of New Line Cinema and Metro-Goldwyn-Mayer (MGM). Jackson returns to Middle-earth in an adventure that begins 60 years before the events depicted in The Lord of the Rings Trilogy. The first of two films adapted from J.R.R. Tolkien's enduringly popular masterpiece, The Hobbit: An Unexpected Journey follows titular Hobbit, Bilbo Baggins (Martin Freeman), who-along with the wizard Gandalf (Ian McKellen) and a band of 13 Dwarves led by Thorin Oakenshield (Richard Armitage)-is swept into an epic quest to reclaim the lost Dwarf Kingdom of Erebor from the fearsome dragon Smaug. The film's ensemble cast includes Cate Blanchett, Hugo Weaving, Ian Holm, Christopher Lee, Hugo Weaving, Elijah Wood, Orlando Bloom, Evangeline Lily, and Andy Serkis as Gollum.
Hall H
4:15-5:15 EPIX Originals: William Shatner and Roger Corman— Two legends of the entertainment world take to the Comic-Con stage to preview their latest projects. Get a gander at the EPIX Original movie, Roger Corman's first-ever made in 3D, Attack of the 50 Foot Cheerleader, in which a meek college co-ed is transformed into a gigantic cheerleader. Then take a sneak peek at William Shatner's Get a Life!, an EPIX original documentary based on Shatner's hugely popular book, in which he examines the cultural phenomena of Star Trek, its fan-following, and his own role within it. To top it all off the panel will be moderated by "Mr.Comic Book Men" himself, Kevin Smith. Room 6A
5:15-5:45 Trailer Park II— Once more with feeling! See the latest in trailers from your upcoming soon-to-be-favorite films, including some in 3D (glasses provided, but please give them back as you exit the hall). Hall H
6:00-7:00 Marvel Studios: Iron Man 3— Producer Kevin Feige and special guests provide an inside look at the ever-expanding Marvel Cinematic Universe. Hall H
7:15-9:15 Comi-Kev: Q&A with Kevin Smith— For like the millionth year in a row, Saturday at Comic-Con's not over 'til the fat lady sings...and that fat lady is @ThatKevinSmith! Taking the the Hall H stage like he takes the desserts off your lunch tray, the guy in the hockey jersey will A all of your Qs! Query about Comic Book Men, Spoilers, SModcast.com, his book Tough Sh*t, Jay & Silent Bob's Super Groovy Cartoon Movie, his Fat Man on Batman podcast, or just ask him about stuff he's got nothing to do with! But get ready to listen because this fatty is chatty! Warning: Kevin Smith throws around adult language like it's clever. It's not, but he loves it. A lot. Hall H