'The Awakening' Trailer: Rebecca Hall Is Forced To Believe In Ghosts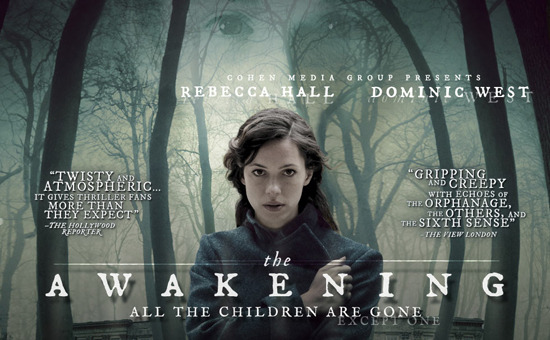 If one had to design a film to occupy the middle ground between The Orphanage and The Woman in Black (or between The Others and The Devil's Backbone) it might be The Awakening, in which Rebecca Hall plays a woman in '20s England  who is called to a boys boarding school to debunk the notion that a ghost roams the halls. A teacher played by McNulty, er, Dominic West helps bring her into the school, and Hall encounters a bit more than she was expecting.
The film was
and premiered at the Toronto Film Festival last year; now a new trailer heralds a full release of the film late this summer. (
There was another trailer last year
.) It's a pretty good trailer, too, full of restrained gothic unease and a few out and out chills. See for yourself below.
has the trailer. The Awakening opens on August 17.
Set in London in 1921, Florence Cathcart (REBECCA HALL), author of the popular book "Seeing Through Ghosts," has devoted her career to exposing claims of the supernatural as nothing but hoaxes. Haunted by the recent death of her fiance, she is approached by Robert Mallory (DOMINIC WEST) to investigate the recent death of a student at the all-boys boarding school where he teaches. When students at the school report sightings of the young boy's ghost, she decides to take on the case. Initially, the mystery surrounding the ghost appears nothing more than a schoolboy prank, but as Florence continues to investigate events at the school, she begins to believe that her reliance on science may not be enough to explain the strange phenomenon going on around her.