'The Man With The Iron Fists' Red-Band Trailer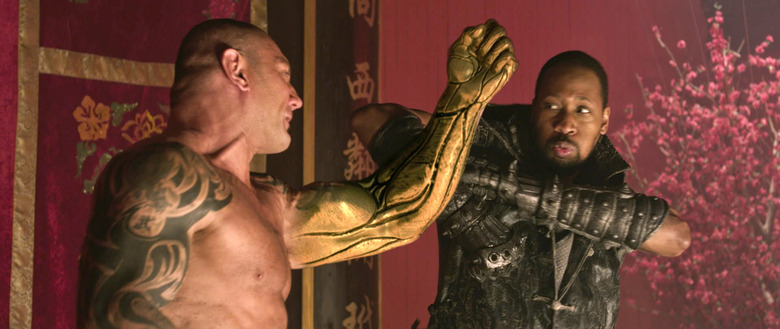 RZA's feature film The Man With the Iron Fists has been a long time coming (we wrote about it in
and
) but the movie, co-written by RZA and Eli Roth, directed by and starring RZA, and presented by Quentin Tarantino, is close on the horizon.
We saw the
first official image from the film
, complete with a flying eyeball, earlier this week, and now we've got the first trailer. Check out the red-band clip, which is full of swirling splatters of blood, below.
As a founding member of the Wu-Tang Clan and one of the men most responsible for the hip-hop collective's Kung Fu film-derived sound, RZA's entire career has been based on movies like this. So it's fun to see him put together his own, and if nothing else this trailer demonstrates that there's a lot of ridiculous stuff in the movie that comes from RZA's decades-old black book of ideas. Here's how he once explained where fight films fit in his life:
Early on, Ol' Dirty Bastard and I used to watch kung fu movies, leave the theater, do some kung fu fighting, get on the train, keep fighting, and then run into MCs and musically battle them like it was a kung fu fight. That was my weekend habit. When we could afford VCRs, we got all the kung fu movies we could get our hands on and watched three or four a day. We were smoking blunts, drinking beer, watching movies, making demo tapes. To this day, at least four times a week, a kung fu flick is in my DVD player. And I'm still DJing, making beats, making songs, and f***ing with kung fu movies. I'm still the same kid when it comes to those things.
has the trailer.
Making his debut as a big-screen director and leading man, RZA—alongside a stellar international cast led by Russell Crowe and Lucy Liu—tells the epic story of warriors, assassins and a lone outsider hero in nineteenth-century China who must unite to destroy the clan traitor who would destroy them all.
Since his arrival in China's Jungle Village, the town's blacksmith (RZA) has been forced by radical tribal factions to create elaborate tools of destruction. When the clans' brewing war boils over, the stranger channels an ancient energy to transform himself into a human weapon. As he fights alongside iconic heroes and against soulless villains, one man must harness this power to become savior of his adopted people.