'The Sessions' Trailer - John Hawkes' Oscar-Buzzy Turn As A 38-Year-Old Virgin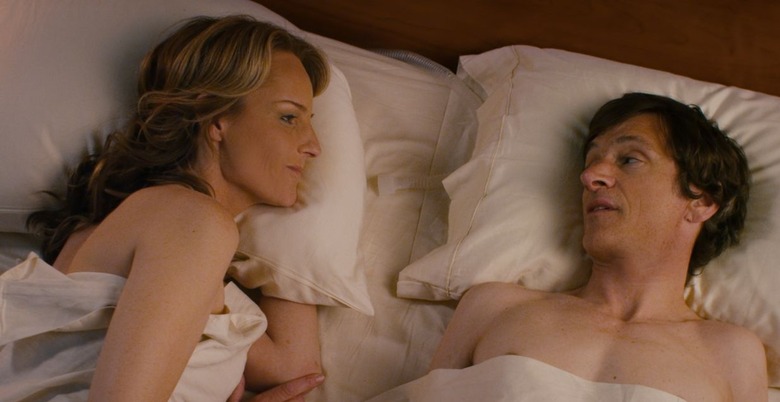 The story of a guy trying hard to get laid for the first time has been told and told again in many an R-rated comedy, but Ben Lewin's The Sessions isn't American Pie or even The 40-Year-Old Virgin. Instead, it's a truth-based drama that's garnering serious Oscar buzz for its star, John Hawkes. The Martha Marcy May Marlene actor plays poet Mark O'Brien, who's confined to an iron lung thanks to a long-ago battle with polio. At 38, he decides it's time to lose his virginity, and he enlists the help of a professional sex surrogate (Helen Hunt) to do so.
The Sessions originally debuted at this year's Sundance Film Festival under the title The Surrogate, and then briefly changed its name to Six Sessions before settling on The Sessions. But whatever it's called, it's proving well-loved. Germain called it "truly breathtaking" and named it one of his favorites of this Sundance 2012, and other critics have been similarly enamored. Watch the first trailer after the jump.
[via First Showing]
Head to Apple.com for the HD version.
Hawkes has been rattling around Hollywood since the '80s, but his career jumped to the next level after his magnetic, Oscar-nominated turn in Winter's Bone. Since then, he's been on a hot streak with excellent projects like Martha Marcy May Marlene, Contagion, and Higher Ground, but they've all been supporting roles. It's nice to see this reliably wonderful character actor take center stage for once.
It's tough to tell from this trailer how deep the movie really goes, and whether it crosses the line from sweet to saccharine. What is clear is that The Sessions boasts a refreshingly unusual premise, and a stellar cast. In addition to Hawkes and Hunt, the drama co-stars William H. Macy as Mark's priest and Moon Bloodgood as his therapist. The Sessions opens October 26.