First Look And Official Synopsis: Kimberly Peirce's 'Carrie' Starring Chloë Moretz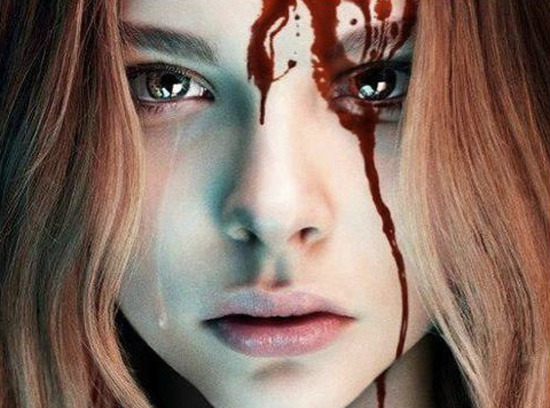 Given that Brian De Palma's 1976 Carrie is revered as a classic of horror cinema, it's tough to avoid thinking of Kimberly Peirce's new version of Carrie as a remake. But strictly speaking, it's not a rehash of De Palma's version but rather a fresh interpretation of Stephen King's original 1974 novel. And Peirce and screenwriter Roberto Aguirre-Sacasa seem to be working hard to make the story their own.
The new Carrie will be set in the modern day rather than in the '70s, and star Chloë Moretz has previously described it as "a more Black Swan version" of the story. So how will that translate onscreen, exactly? Check out the first pic of Moretz in costume and the new official synopsis after the jump.
The outfit seems appropriate, since the character's supposed to be the awkward product of a religious fundamentalist household. It's an encouraging start, but I don't know that there's much else to be gleaned here. Moretz is in costume, but she doesn't appear to be in character, so it's tough to get a read on how she'll actually play Carrie White from this one snapshot.
Meanwhile, Screen Rant picked up the synopsis, which should sound pretty familiar if you've seen De Palma's adaptation or read King's original book:
The quiet suburb of Chamberlain, Maine is home to the deeply religious and conservative Margaret White (Moore) and her daughter Carrie (Moretz). Carrie is a sweet but meek outcast whom Margaret has sheltered from society. Gym teacher Miss Desjardin (Greer) tries in vain to protect Carrie from local mean girls led by the popular and haughty Chris Hargenson (Portia Doubleday, Youth in Revolt), but only Chris' best friend, Sue Snell (Gabriella Wilde, The Three Musketeers), regrets their actions. In an effort to make amends, Sue asks her boyfriend, high school heartthrob Tommy Ross (newcomer Ansel Elgort), to take Carrie to prom. Pushed to the limit by her peers at the dance, Carrie unleashes telekinetic havoc.
Carrie is set for release on March 15, 2013.