TV Bits: 'Breaking Bad' Trailer, 'Dexter', 'Happy Endings', 'Political Animals, 'The Good Wife', 'Community', 'Happy Endings', 'Firefly'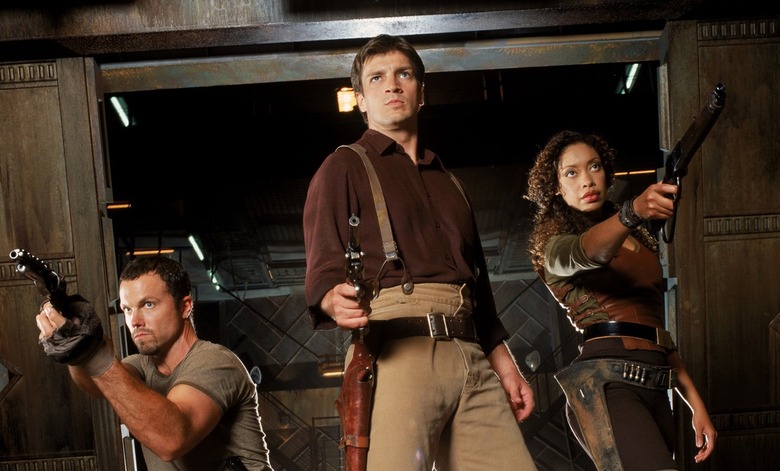 With San Diego Comic-Con just around the corner, a lot of our TV Bits are devoted to news about the cool stuff that'll be going on there. But there's plenty of stuff in here for the non-attendees as well, I swear. After the jump:
Exec producer says Dexter will "definitely" be over after Season 8
Breaking Bad gets a new trailer. Only 18 days left til the premiere...
... Unless you're going to SDCC. Then you get to see BB a day early!
Speaking of SDCC, the Community panel is moving to a bigger room
And in still more SDCC news, the Firefly crew will also be in attendance
There is another Season 2 ep of Happy Endings, and it's playing at Outfest
Nathan Lane will have a recurring role in The Good Wife's fourth season
Star/producer/writer B.J. Novak won't be full-time on The Office anymore
Sigourney Weaver gets political in an extended trailer for Political Animals
"We wanted to end it this year, but the network convinced us that it would be best to do it in two years," she said. "In some ways, this is a two-season series-ender. We have worked that out and know where it's going to end. Next year will definitely be the last year of Dexter." Colleton revealed that she'd envisioned a seven-year arc "from the very beginning," and that she wants to end the series before it gets "old and stale." Cue embittered fan jabs about how it's already way too late. Season 7 of Dexter will premiere this fall. [via HuffPo]
And speaking of antiheroes on their way out: AMC's acclaimed Breaking Bad is about to kick off its sixteen-episode fifth and final season, which will air in two parts. The first eight episodes begin their run on Sunday, July 15, and we have a thrilling new trailer for you right here:
[via TV Overmind]
If that promo has you so amped you can't stand to wait quite that long, you could always head to San Diego to catch the Breaking Bad premiere a day early. The episode will air at San Diego Comic-Con on Saturday, July 14 as part of an AMC panel featuring stars Bryan Cranston, Aaron Paul, Anna Gunn, Jonathan Banks, Dean Norris, Bob Odenkirk, and Betsy Brandt. R.J. Mitte is presumably too busy eating breakfast to attend. [LAT]
Or on second thought, maybe you should make the drive down on Friday, July 13 instead to catch the Community panel. Those who attended (or rather, tried to attend) last year probably recall what a nightmare it was to try and get into last year's crowded Indigo Ballroom. So thank God that this year's panel is getting a much-needed size upgrade — the new space, Ballroom 20, can hold up to 5,000 people.
Stars Joel McHale, Alison Brie, Danny Pudi, Yvette Nicole Brown, and Gillian Jacobs will all be present at the event, which starts at 10:00 AM. Jim Rash, Donald Glover, and Ken Jeong will not be there (boo), while Chevy Chase's status is unknown. [Screen Crush]
Okay, one last Comic-Con tidbit and then we can move on, I swear. The stars of Firefly — including stars Nathan Fillion, Alan Tudyk, Adam Baldwin, and Sean Maher, writer Tim Minear, and of course, creator Joss Whedon — will gather for a 10th anniversary panel hosted by the Science Channel. The event will take place at 12:30 PM on Friday, July 13 at 12:30 PM, and will include never-before-seen footage and "numerous buzz-worthy surprises," whatever the hell that means. [TV Line]
Happy Endings' ah-mah-zing second season seemed to come to a close back in April, but did you know that ABC's been sitting on one more unaired episode all along? TV Line reports that the extra episode will debut at Outfest, the LGBT film festival taking place in LA from July 12-22. Tragically, a broadcast or online air date has yet to be announced.
According to star Adam Pally, the "missing" installment features a Bad News Bears-esque plotline about kickball. Pally's Max serves as the team's coach, while the usual gang plus guest star Seth Morris (Childrens Hospital) comprise the team. Read more details on the episode here.
CBS' The Good Wife is beefing up its fourth-season cast with a new recurring character. Nathan Lane has just signed on for a multi-episode role as a manager hired by the bank to cut costs at Lockhart & Gardner. Predictably, his devotion to fiscal prudence has him butting heads with the rest of the staff. Lane's first appearance will be in the series' September premiere. Other stars signed on for next season include Maura Tierney, Kristin Chenoweth, and Marc Warren. [Deadline]
Kelly Kapoor and Ryan Howard aren't exactly the healthiest couple on NBC's The Office, but the stars who play them, Mindy Kaling and B.J. Novak, seem totally (if platonically) devoted to each other in real life. As Kaling leaves the long-running comedy to star in The Mindy Project on Fox, Novak is downgrading his involvement in The Office as well, and will devote part of his extra time to help producer her new series.
Novak will continue to make recurring appearances on The Office, and may continue to write and/or direct in the future, but it won't be his full-time gig anymore. The Mindy Project won't be a permanent post, either — while he exec produced the pilot, it's expected that he'll move on. Good luck to you, sir, wherever you wind up next. [TV Guide via Vulture]
Sigourney Weaver may have a long stint on Pandora ahead of her, but first the esteemed actress is making a stop at the arguably weirder, scarier world of Washington, D.C. USA's Political Animals stars her as a Hillary Clinton-esque Secretary of State trying to keep her family and career on course while recovering from her failed marriage to the former President. Carla Gugino, Ellen Burstyn, James Wolk, and Sebastian Stan also star. It's clear that this new drama is USA's bid for AMC-style respectability, and so far it actually looks pretty promising. Head to EW.com to watch the extended trailer.