VOTD: Seth McFarlane's Motion Capture Performance As 'Ted'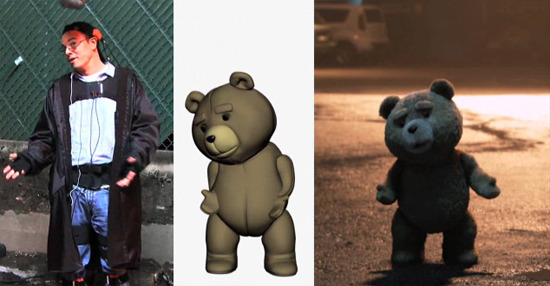 Family Guy creator Seth MacFarlane is making the leap to feature-film director with Ted, the story of a man (Mark Wahlberg) who has lived his whole life alongside an unlikely best friend: the dissolute, lazy teddy bear he wished to life as a boy. MacFarlane co-wrote the film, and he does the voice work for Ted. But the multi-hyphenate also wore a mo-cap suit to perform the movement of the bear.
Universal has released some footage of MacFarlane doing his performance in full-on motion-capture gear, and its always fun to see a grown man act out the motions of a stuffed animal, especially if the stuffed animal in question is a dirty, creepy little dude. Check out the featurette below.
Ted is released this week, as its release was pulled forward from a previously-scheduled July 13 date; we'll have a review tomorrow.
Family Guy creator Seth MacFarlane brings his boundary-pushing brand of humor to the big screen for the first time as writer, director and voice star of Ted.  In the live action/CG-animated comedy, he tells the story of John Bennett (Mark Wahlberg), a grown man who must deal with the cherished teddy bear who came to life as the result of a childhood wish...and has refused to leave his side ever since.