'Magic Mike' Eyeing Broadway Adaptation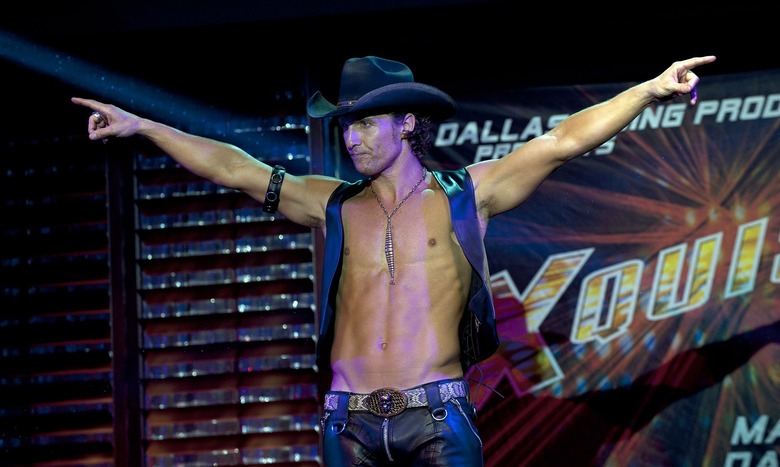 These days, it's no longer enough for a movie to just succeed by itself on the big screen — if there's a movie spin-off, theme park attraction, board game, or stage adaptation to possibly be made of it, someone, somewhere is already working on it. Such is the case with Magic Mike, Steven Soderbergh's male stripper pic based on the real-life experiences of star Channing Tatum. Although the film itself won't open for another few days, screenwriter and producer Reid Carolin says they've already been cooking up plans for a Broadway run. Hit the jump for details.
According to Carolin, the stage version wouldn't be a direct adaptation of Soderbergh's picture, but "more of a romp, more of a fun night out at a club with a story." By which he apparently means a fun night out for the audience. "I'm almost more excited about that than the movie because I think it's the perfect thing for women to go see on Broadway, to be participants in the show," he said. Indeed — I can see the hordes of bachelorettes descending upon it already.
Since the chiseled leads are a huge part of the film's appeal, the question naturally turned to who might star in the theater adaptation. While it seems unlikely that the movie star cast will trade in their screen careers for the stage anytime soon, they generally seemed up for at least dipping a toe in. Alex Pettyfer asserted that he was "absolutely" on board for the Broadway show, adding "I think we should all do the opening night." Tatum, meanwhile, agreed that he'd "love to do Broadway," although he confessed to knowing nothing about stage musicals.
If Magic Mike does indeed make it to Broadway, it'll be in good company. The current roster includes several musicals based on movies, including Newsies, Once, Sister Act, Ghost, Mary Poppins, and The Lion King — to say nothing of stage shows that have been turned into films, including Chicago, Rock of Ages, and Evita.