'Robot & Frank' Trailer: Frank Langella And His Robot Buddy Steal Jewels In Crowd-Pleasing Sundance Hit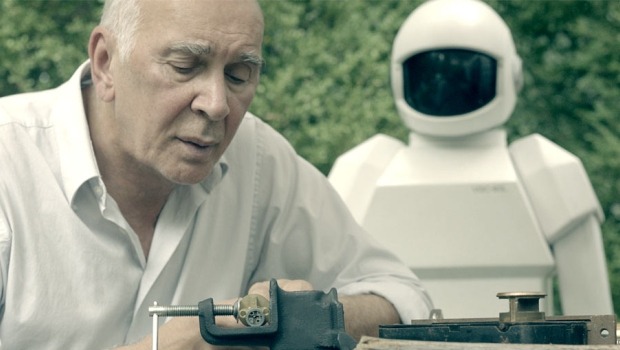 While it wasn't a universally lauded smash on the order of Beasts of the Southern Wild, Robot & Frank proved a minor hit at this year's Sundance Film Festival thanks to strong central performances and a fun premise. Frank Langella plays the titular Frank, an elderly crank whose grown children (Liv Tyler and James Marsden) become concerned over his growing inability to take care of himself.
In an attempt to deflect some familial responsibility, Frank's son gets him a robot (voiced by Peter Sarsgaard) who'll look after him. Following classic buddy-comedy form, Frank initially despises the thing before he eventually develops a rich friendship with it. The twist? Frank is a retired jewel thief who trains Robot to help him get plot a multi million-dollar heist. Susan Sarandon also stars, as a librarian with a soft spot for Frank. Watch the trailer after the jump.
The stars involved have all gotten some great buzz for their parts in the film, particularly Langella.
was especially taken with his performance, praising it as "better even than his Oscar-nominated turn in FROST/NIXON." Considering his illustrious career, that's high praise indeed.
Awardworthiness aside, Robot & Frank looks just plain enjoyable, balanced perfectly between lighthearted comedy and bittersweet drama. Not bad at all for a first-time feature director (Jake Schreier). Robot & Frank is scheduled to open August 24, where it should serve as a nice bit of counter-programming against the thriller Premium Rush, the horror The Apparition, and the broad comedy Hit & Run.
Synopsis:
Set in the near future, Frank, a retired cat burglar, has two grown kids who are concerned he can no longer live alone. They are tempted to place him in a nursing home until Frank's son chooses a different option: against the old man's wishes, he buys Frank a walking, talking humanoid robot programmed to improve his physical and mental health. What follows is an often hilarious and somewhat heartbreaking story about finding friends and family in the most unexpected places.