Steve McQueen's Star-Studded 'Twelve Years A Slave' Adds Michael K. Williams [UPDATED]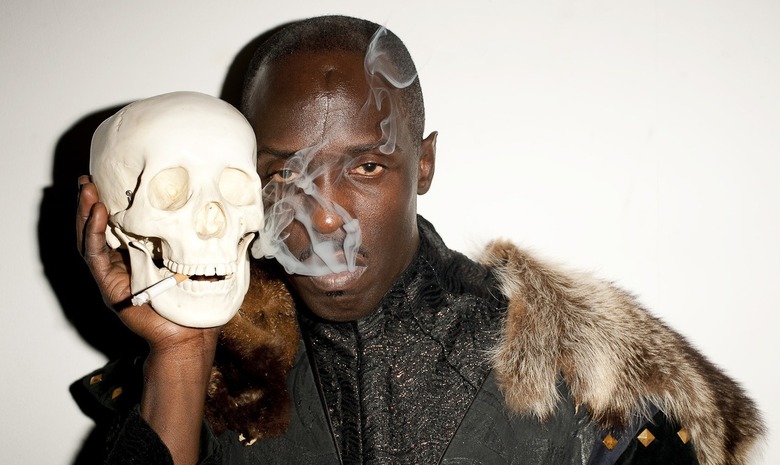 I'm starting to suspect Steve McQueen watches the same TV we do. The British director of Hunger and Shame has already cast Sherlock's Benedict Cumberbatch, Saturday Night Live's Taran Killam, and Raising Hope's Garret Dillahunt in his upcoming Twelve Years a Slave, and he's now added another small-screen favorite. Michael K. Williams, a.k.a. Omar Little on The Wire, has just boarded the cast, which also includes Chiwetel Ejiofor, Michael Fassbender, and Brad Pitt. More details after the jump.
UPDATE: A few hours after this post went up, it was announced that Beasts of the Southern Wild star Dwight Henry had also joined Twelve Years a Slave.
Williams' showbiz career stretches back to the mid-'90s, but it was 2002's The Wire that really launched him to the next level. Since then, he's alternated between movies (Gone Baby Gone, The Road, Life During Wartime) and television (Alias, Boardwalk Empire, Community). Late last year, he got close to booking a part in Quentin Tarantino's Django Unchained, but ultimately wasn't able to make it fit. Still, he seems to be moving on up just fine without it. Among his recently landed gigs is Dirty White Boy, a biopic of Wu-Tang Clan founder Ol' Dirty Bastard, in which Williams will ply the lead.
With production on Twelve Years a Slave already underway, Williams is likely one of the last pieces to fall into place. No release date has been set, but look for the project to hit sometime next year.
In 1841, while working in Saratoga Springs, New York, Solomon met two white men named Merrill Brown and Abram Hamilton. The men overheard Solomon playing his violin and approached him claiming to work for a traveling circus. They proceeded to offer Northup a job providing musical entertainment for the circus at the rate of $1 a day and $3 for each performance. The two men informed him that they would need to travel to Washington D.C., where the circus currently was located but that they would then be traveling back north. Believing he would only be away from home for a short period of time, Solomon did not notify his family that he was leaving. Little did he know that this trip would mark the beginning of the twelve longest years of his life.
Even though Solomon was a free black man, Washington D.C. in 1841 was a place where slavery was legal. Free blacks traveling through areas where slavery was legal needed to furnish papers certifying their free status or face the possibility of being accused of being a runaway slave. Thus, before Solomon and his new companions left the state to begin their trip to Washington D.C., he secured papers declaring his status as a free black citizen of New York. Unfortunately, these papers would not be able to protect Solomon once he reached the nation's capital.