Sequel Bits: 'Kick-Ass 2', 'A Good Day To Die Hard', 'Child's Play 6', 'Beetlejuice 2', 'Cloudy 2'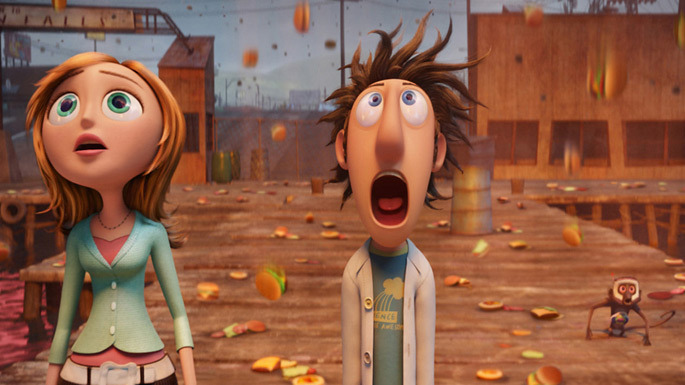 Today's Sequel Bits is bursting with plot details — for Kick-Ass 2, Cloudy 2, and Curse of Chucky. There's even a tidbit of info about what we might or might not see in Beetlejuice 2. After the jump:
Kick-Ass 2's plot involves mean girls and identity crises
Set videos reveal A Good Day to Die Hard footage
Child's Play 6, a.k.a Curse of Chucky, headed straight to DVD
Seth Grahame-Smith plans to use Beetlejuice sparingly
Kristen Schaal joins Cloudy 2: Revenge of the Leftovers
Just about every superhero epic includes a plotline at some point which sees the costumed avenger being unmasked, and it looks like Kick-Ass will be going there for its upcoming sequel. According to Moviehole, Kick-Ass 2 will see both Mindy/Hit-Girl (Chloë Grace Moretz) and Dave/Kick-Ass (Aaron Johnson) reeling from the consequences of having their identities revealed to the wrong people:
Dave's identity as 'Kick-Ass' is only really revealed to the one extra person, but it's someone important. And it has repercussions. Hit-Girl's identity is also widely known by this point – and it evokes much nasty yabbering behind Mindy's back by her schoolmates (she's nicknamed "Captain Muffin-Muncher"). The worst of the mean girls, Brooke, is your typical prissy jock-marrying wannabe who controls the thoughts and feelings of her teenage followers and disciples (including innocent young Lois, whom ultimately forms a bond with Mindy). But 'Hit-Girl', never one to shy away from a confrontation and seemingly always equipped with the perfect weapon of self defense, gets Brooke and her bitch gang back in... let's say, rather spectacular fashion. It involves gadgetry, projectile vomiting and much begging. There will be so much cheering in the cinema!
Screen Rant adds that the film will also see Dave and Mindy reuniting and recruiting allies for a "'Balls to the Wall' fight" against Red Mist (Christopher Mintz-Plasse), who by this point has assembled his own team of baddies. Kick-Ass 2 is slated to begin shooting this fall.
We've yet to see a real trailer for A Good Day to Die Hard, but thanks to these videos from the Budapest set we have a tiny little glimpse of the first real footage from the film. Much of the video just shows cast and crew milling about, but whoever shot the video zooms into the monitor a few times so we do get to see what they're shooting. Not surprisingly, explosions and blood are involved.
Head to Comic Book Movie for several more videos. Starring Bruce Willis and Jai Courtney, A Good Day to Die Hard opens February 14, 2013.
Chucky, the murderous doll that launched countless childhood nightmares, is coming back again — but not to the big screen, or at least not yet. Moviehole has learned that Don Mancini, who directed Seed of Chucky and has co-written all five Child's Play movies to date, is now on board to write, direct, and produce Curse of Chucky, a direct-to-DVD sequel for Universal Home Entertainment. Here's the plotline, according to their sources:
Chucky arrives to wreck havoc within a family that's regrouped for a funeral. In the wake of her mother's passing, a young woman – in a wheelchair since birth – is forced to put up with her sister, brother-in-law, niece and their nanny as they say their goodbyes to mother. When people start turning up dead, the fearless Nica discovers the culprit might be a "strange doll" she was sent a couple of days earlier.
Brad Dourif, who has voiced Chucky throughout the series, will once again reprise his role. The new film is expected to emphasize horror over comedy, and as such will "skip over" the last two more overtly campy sequels altogether, picking up after the scarier Child's Play 3. Shooting is expected to start this September in Winnipeg. Head to Moviehole for more details.
Seth Grahame-Smith hasn't had time to write his Beetlejuice sequel just yet, but he's going to be fielding questions about it until the damn movie gets made. (At which point he'll just get asked about Beetlejuice 3, I'm sure.) But it is clear he's already putting a lot of thought into it. In a new interview with Bleeding Cool he went a little beyond his usual "we won't do it unless it's right" line to expand a little bit on how he wants to use the character:
I think the magic ingredient is trying not to over do it. Not to make it some crazy, overblown big Beetlejuice Saves the World type of story. Frankly, Beetlejuice himself is only in the original movie for about a half hour. I think using him sparingly is key. And not trying to make it so modern, family friendly and broad but to cling to the things that made it a little dangerous.
If Grahame-Smith can pull it off, that sounds great. But as he himself admits, that's a high bar to pass. "Here's the problem. Beetlejuice was a wonderful accident," he noted. "That was a movie that miraculously and strangely came together in editing. They found this wonderful, strange, irreverent movie in there.[...] That's the scariest part for me – essentially I'm trying to catch lightning in a bottle. The chance of creating something transcendent twice is very slim."
Kristen Schaal will go from explaining women's issues to Jon Stewart to helping Bill Hader and Anna Faris save the world. The Daily Show correspondent (and former Flight of the Conchords stalker) has signed on for Cloudy 2: Revenge of the Leftovers in the role of an orangutan. Schaal has previously done voice work on Toy Story 3 and the Fox series Bob's Burgers.
According to THR, the animated sequel will follow Flint Lockwood (Hader) and his pals forced to leave Swallow Falls — and then asked to come back again when "sentient food beasts" take over the island. Directed by Cody Cameron and Kris Pearn, Cloudy 2 will open February 7, 2014.