Gallery: Martin Ansin, Ken Taylor And Rich Kelly Get Away From The Movies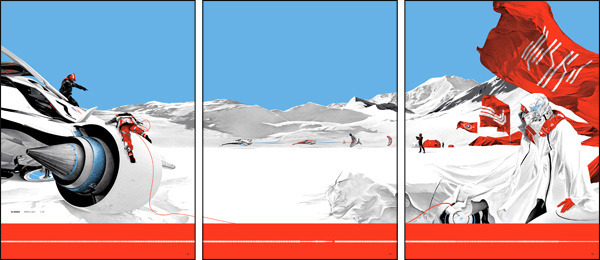 Three of Mondo's biggest artists are currently collaborating for a gallery show in Long Beach, California. But it's not Mondo, and the subject is not movies. Still, the frenzy that these guys have created with their work on films like
,
, UHF, Bride of Frankenstein, Poltergiest and
made the event something truly memorable. Almost a hundred people lined up seven hours before the opening. Prints worth thousands of dollars being signed. And gorgeous new work on display.
After the jump, check out images of A Distant Winter, a gallery show still on display at the Phone Booth Gallery in Long Beach, CA and read a bit more about its artists: Martin Ansin, Ken Taylor and Rich Kelly.
Here's the work from A Distant Winter. Descriptions and info below.
The top four pieces (three originals and a three piece triptech that we've posted as one image) in the above gallery are by South American artist Martin Ansin, the most popular guy on the print scene today. It's a mantle he's rightfully earned with his unique blend of comic book cool and detailed realism. His Mondo posters for films such as
,
,
and more are highly sought after and his work regularly graces the pages of ESPN Magazine, The New Yorker and more. However, Ansin, who lives in Uruguay, is rarely in the States. He
never
[Edit: Ansin
:
"And for the record, I do get to see my own prints, man-- just not as fast as the people that buy them
"] gets to see his posters in person and hasn't even met the guys who pay many of his bills: the guys at Mondo.
Speaking with Ansin you get the sense that he's a true fan of the films and TV we all adore, but prefers to distance himself from the hype his work creates. He was unaware of his Facebook fan page and almost embarrassed over the high aftermarket prices some of his work goes for. He's proud of his work but once it's out there, it's out there.
For his pieces in this show Ansin went with a sci-fi theme that evokes certain movies – The Empire Strikes Back – for example, but is from nothing in particular. The triptch, called Alaska, is influenced by not only that film, but the video game Wipeout and is named after/considered a companion piece to the song "Alaska" but the band Monolake. The red band at the bottom running across the three pieces is the digital readout of that song, which you
.
The red, black and white Japanese themed pieces above, three originals and three prints, are by Australian artist Ken Taylor, who hails from Melbourne. Much like Ansin, Taylor's work is highly sought after. He's been working with Mondo for years, but has also never met them, and never sees his work because he's rarely in the United States. In fact, his trip to California for A Distant Winter is the first time the artist behind
,
amazing 
 pieces, and the Star Wars
has ever been in the United States.
Taylor is unbelievably talented and prolific, and his up-close detail work is a marvel in person, in pieces done both with paints and digital tools. He, too, is a super fan of pop culture, but especially music, because that's where he got his start. Understated but humble and nice, he's aware of the hype of the print world but doesn't get very involved.
Rich Kelly is the newbie of the group and the one person in the show who lives in the United States. He's been putting his exaggurated but beautiful spin on Mondo posters since 2010 with
and recently killed a
piece. Kelly is young, funny, easy to talk to, and very dismissive when told his work belongs besides that of Taylor and Ansin. His work in this show, which shares a historical theme, proves that his work isn't out of place next to the other guys'. It's his best work yet, blending history with a drop of pop sensibility.
A Distant Winter is on display at the Phone Booth Gallery, 2533 E. Broadway, Long Beach CA until July 24th. Visit
for more info.