/Film Exclusive: Preview 'Action Comics Annual #1,' With A Story From 'Chonicle' Writer Max Landis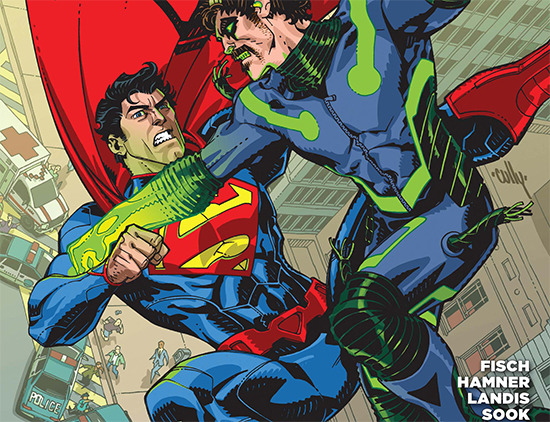 As comics have been embraced by Hollywood as the new go-to pasture for grazing on established properties and characters, film writers have occasionally tackled comics as well. Kevin Smith, Joss Whedon, and J. Michael Straczynski are among the most high-profile talents who have gone from film and TV to comics. Now Chronicle writer Max Landis is making the jump to the printed page thanks to DC and the first Action Comics annual to come out of the "New 52" reboot.
Action Comics Annual #1 is by writer Sholly Fisch and artist Cully Hamner, and it also features an 8-page backup story from writer Max Landis and artist Ryan Sook (Wednesday Comics; Jonah Hex; Buffy the Vampire Slayer). Check out a preview of the Fisch and Hamner pages below.
DC sent us the first pages of Fisch and Hamner's story, which you can see in the gallery below. You'll have to catch most of the Landis material in printed form.
DC explains the annual:
Hitting stores on October 31, this special oversized issue continues to explore the secrets of the "missing five years" between when Clark Kent came to Metropolis and the present day. And in the wake of Brainiac's attack on Metropolis, Superman faces his first Earth-born villain: the Kryptonite Man! Plus, in the back-up story, witness the DC COMICS-THE NEW 52 introduction of The Atomic Skull!
Landis did talk to CBR about his take on Superman, saying,
What would I do if I had the keys to Superman? Honestly, my opinion of Superman has always been that he should be a normal guy. In as much the sense, we don't go too cartoon-y, we don't go too far into the idea that he's an alien. We just focus on how f***ing weird it would be to be Superman. I would love to write a Superman comic, a series or an arc, which is about how bizarre it is that he's this guy who grew up in Kansas and he finds out that he's an alien. They sort of brush that over constantly, but this is a guy who, if the New 52 timeline works out, grew up watching "Alien," "E.T." and "Independence Day." And then he finds out, "Oh, that's me? I'm from space. I don't feel like I'm from space." That's what's so special for me. He's not a billionaire. He's not a f***ing Amazonian princess. He's not even a particularly picked-on guy. He's not Peter Parker. He's just a dude. And to grow into a slightly smarter than average dude and find out you're Superman, that's f***ing interesting to me... I feel like he should be a way-in for readers, which is a way that he really hasn't been used as. That's what I'd do with him.'
That's what Landis would do with a larger arc on Superman; this first 8-page story will probably be a bit more constrained. Here's one page: