Trivia: Cafe Where Pixar Came Up With 'A Bug's Life', 'Monsters Inc', 'Finding Nemo' And 'WALL-E' Shuts Down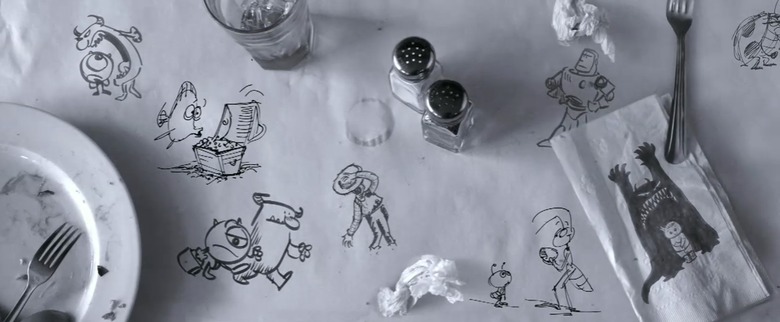 In the Summer of 1994, while deep in production on their first feature film Toy Story, the key Pixar creatives (including John Lasseter, Andrew Stanton, Pete Docter and Joe Ranft) had a now famous lunch in a diner called Hidden City Cafe in Point Richmond. During this lunch meeting they ended up brainstorming the ideas that eventually became the films A Bug's Life, Monsters Inc, Finding Nemo and WALL-E. The story has become mythical, a part of film animation legend and a cornerstone moment in Pixar's history. It was even featured in the teaser trailer for Andrew Stanton's WALL-E.
Sadly, the cafe has closed its doors after over 20 years of service, with unconfirmed reports that it was shut down for rats (Ratatouille anyone?).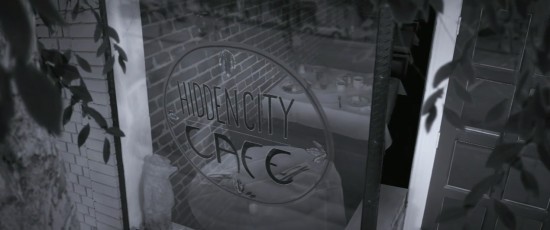 Watch the retelling of the story in the WALL-E teaser trailer:
Hidden City Cafe was close to Pixar's original animation studios location in Point Richmond California. It was said to be one of director Pete Docter's favorite places to eat. Hidden City was the code name for Monsters, Inc. before the film had a title. He featured Hidden City Cafe in the background of a scene in Monsters Inc, Mike and Sulley walk past the cafe on the way to work (screenshot thanks to PixarPlanet):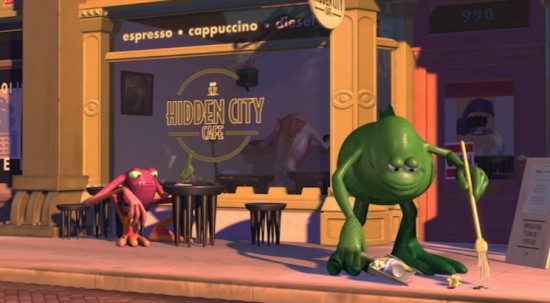 The cafe also had an easter egg in Toy Story 2, the license plate on the Pizza Planet truck that the toys get in has a license plate that reads "HDNCTY":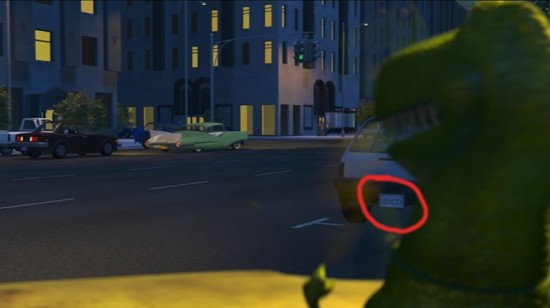 From what I've heard, the cafe was actually a good place to eat, but had fallen in quality over the last few years of business (the current Yelp rating is 3 out of 5 stars). Pixar fans from around the world would make a pilgrimage to visit the cafe when in northern California. The cafe even featured a small section dedicated to Pixar, which included a signed bottle of wine from Toy Story director (later turned studio head) John Lasseter's family winery, a Ratatouille maquette, and some artwork from Up. Photo from ThisDayInPixar:
Hidden City Cafe owner Shellie Bourgault announced the closing of the cafe on YouTube:
And here is a video promoting the cafe from 2007: