'Breaking Bad' Art Project Goes International With Rich Kelly's 'Mexican Shootout'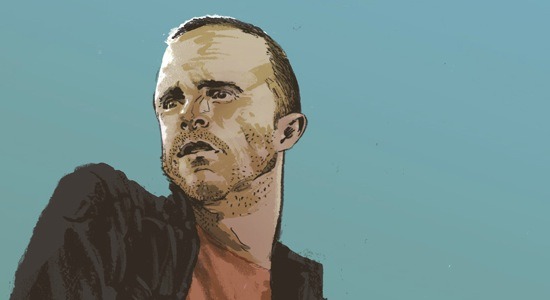 Not only was the reveal for the latest Breaking Bad poster across the Atlantic, the poster it begat takes place in a foreign country too. Rich Kelly's Mexican Shootout shows a glimpse at one of the most action packed scenes in the history of the hit AMC show and, after the jump, you can read about the reveal and see the full image. It's glorious.
The latest reveal took place at Forbidden Planet in Glasgow, Scotland. There, fans got a limited edition notepad from Beneke Fabricators signed by Vince Gilligan (how awesome is that?) which had the following URL: fillyourpocketsandleaveinpeace.com revealing this poster (minor spoilers below).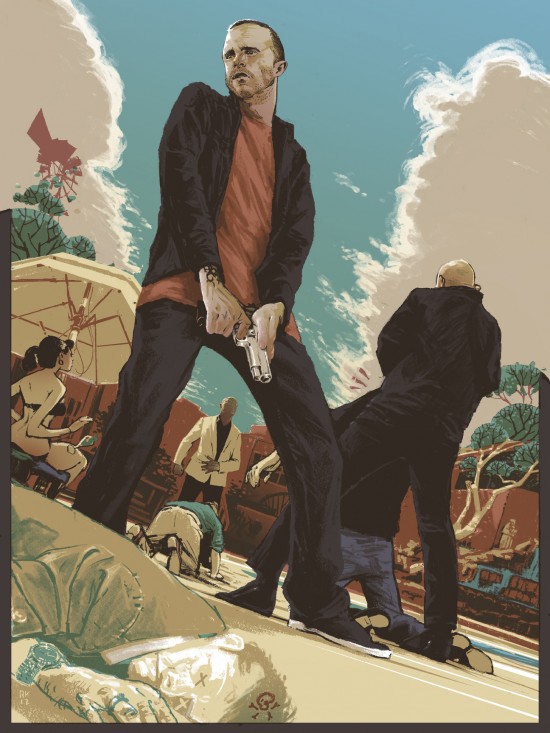 Mexican Shootout by Rich Kelly is an 18x24 inch screenprint in an edition of 300. It'll be on sale later this morning at the above URL.
As always, keep and eye on BreakingGifs.com and @BreakingGifs for announcements on this series.BreakingGifs.com is viral campaign to promote the upcoming final season of Breaking Bad on AMC. Curated and run by Tyson Givens and Gallery 1988, each week the site will link to a new piece of Breaking Bad themed art by well-known and up and coming artists, all leading up to the show's premiere July 15.