First 'Dredd' Teaser Footage Lets Karl Urban Growl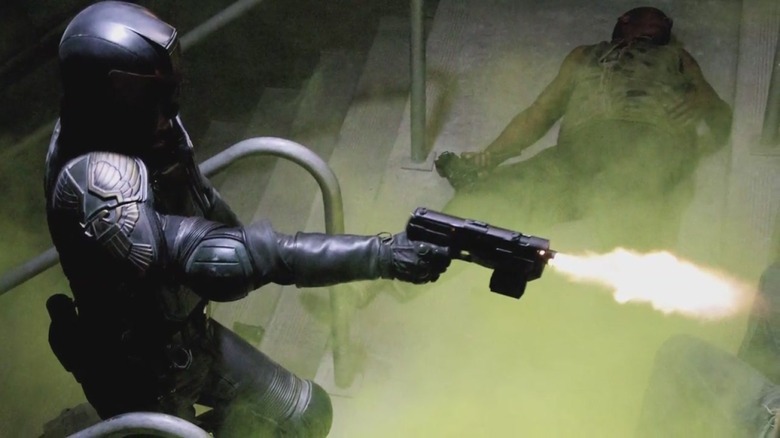 I spent so much time reading 2000AD and Judge Dredd comics in my youth that I can't help but be interested in a new film built around the scowling, perpetually helmeted law officer from Mega City One. The 1995 movie starring Sylvester Stallone had a few good moments, but didn't really hit the mark... and I've still watched it more than once.
So let's hope the new Dredd, starring Karl Urban as the title character and Olivia Thirlby as his associate Judge Anderson, is a little better. The movie, directed by Pete Travis (Vantage Point) and written by Alex Garland (Sunshine, 28 Days Later), opens in September, and the first trailer hits tomorrow. But right now we've got a minor smattering of footage, showing Dredd in action.
Ten seconds isn't enough to get much of a look at what's going on. One point of interest is the precise manner in which the new film creates the sprawling, horrible post-apocalyptic city in which Dredd lives. On-set photos we've seen suggest that it looks a little too current for some tastes, and this footage doesn't dispel that notion.
But Urban looks good in the costume, and he sounds good, too. And if the film nails the tone of the comics — think a weird mixture of Thatcher Britain, Reagan US and futuristic hellhole — then it might work out fine.
Dredd takes place on a fictional Earth created as a result of the Atomic Wars. Survivors of this period are living in Mega-Cities, which protects its citizens from the Cursed Earth, a radioactive desert environment populated by mutants. The main story takes place in Mega-City One, where the police who are now called judges have the power to use police brutality to some extent to fight extreme murders. One man, Judge Dredd (Karl Urban), a senior law enforcement officer, teams up with a cadet called Judge Anderson (Olivia Thirlby) to track down a terrorist organization lead by Ma-Ma (Lena Headey), who is responsible for selling a reality-altering drug called Slo-Mo.