'Raging Bull II' Is Shooting Now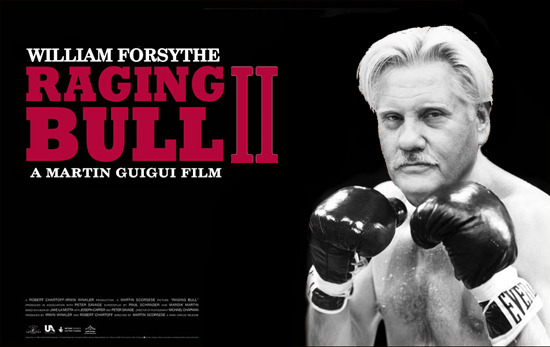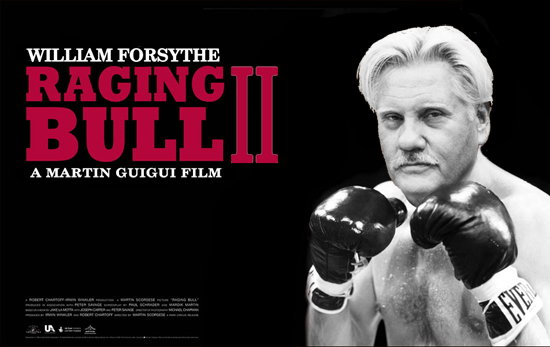 What can I say? This one is happening, just as we feared it would.
Martin Guigui (who?) is directing a hybrid prequel/sequel to Martin Scorsese's landmark 1980 boxing film Raging Bull. This one, Raging Bull II, was co-written by Guigui and Rustam Branaman, and stars William Forsythe as the older Jake LaMotta, and Mojean Aria playing the younger version of LaMotta for scenes that take place before Scorsese's film. (Robert De Niro played LaMotta for Scorsese.)Joe Mantegna, Tom Sizemore, Penelope Ann Miller, Natasha Henstridge, Alicia Witt, Ray Wise, Harry Hamlin, Bill Bellamy and James Russo are all in the cast, too, according to Variety. That's not a bad cast, and I do love Forsythe — the guy's a great presence — but the idea of trying to stand up against Scorsese's film is not one I'd want to entertain. Good luck, all!
Hopefully they've got a better idea of what this movie should be than Scorsese does. The original director recently admitted, "I really don't know what Raging Bull II would be."
Raging Bull II is filming at the Universal lot and on locations in LA. We'll show you footage when it becomes available. In the meantime, Alicia Witt tweeted a couple photos of her look for the film.
Here's part of the publisher's description of LaMotta's book this film is based on:
Raging Bull II is a continuation of the Jake La Motta story. When Robert De Niro won an Academy Award playing Jake in a film made from the book, La Motta's life brightened as he shared the limelight with De Niro. Since then he has gone through fortunes, been wealthy and flat broke, and married again in addition to his first five marriages, which ended in divorces before, the film was produced. La Motta now lives with Theresa Miller, his sixth wife. In her he believes he has finally found a marital state that will endure for the balance of his life. All of the conflicts, the fights and the terrors, which have been part and parcel of La Motta's life, are in these pages. The book takes a sharp look at the real Raging Bull, both as the controversial ring gladiator and as the older, wiser philosophically entertaining performer he has become. In the ex-fighter's own words, "this time [he] has fought not to be a champion gladiator but to become a champion human being.