'Transformers: Dark Of The Moon' Co-Star Rosie Huntington-Whiteley Goes To 'Mad Max: Fury Road'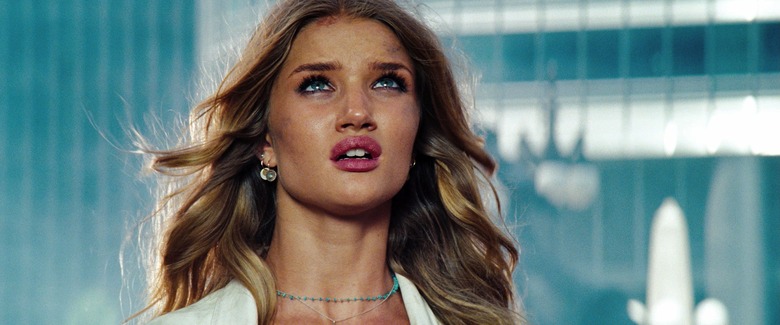 It looks like this new Mad Max film is really happening, at long last. George Miller wrote and has planned to direct Mad Max: Fury Road, but the production has been delayed to the point where we wondered if it might evaporate in the African sun. The film has been discussed as the possible kick-off of a new trilogy, but first it has to shoot.
Stars Tom Hardy (who plays the new Mad Max) and Charlize Theron have both said shooting starts within weeks, and Theron has been spotted sporting a closely-cropped haircut, presumably for the role.
Now Fury Road has added another actor: Rosie Huntington-Whiteley, who made the jump from Victoria's Secret model to actress thanks to Michael Bay and Transformers: Dark of the Moon.
Deadline says she'll play "one of the five wives in the film." But that's not quite what it sounds like. The correct capitalization there might be the Five Wives, as the quintet is a convoy of women being pursued by the film's villains. We can expect Max to step in and help out there. Abby Lee Kershaw is another one of the Wives, and Zoë Kravitz, Adelaide Clemens, and Riley Keough have all been mentioned for roles, too. With the various delays in filming I wouldn't bet that they're all in the film, at least until a release goes out officially announcing the whole cast.
And for what it's worth, Theron recently expressed a real desire to get to work on the movie ("I'm fucking dying, too, it's been three years. It's time to skin this cat already, so yeah, I'm very excited about it") and said that Fury Road is neither a prequel nor a sequel to existing Mad Max films:
Like with Snow White And The Huntsman, there is so much potential to re-imagine that world. It's such an interesting world and how much it still resonates today after 20 years or whatever it's been. We're going back to that world but this is not a prequel or sequel or anything like that... Tom Hardy will be playing Mad Max but this is not the Mad Max that we know from that [film]. Only Tom Hardy can do this Mad Max and my character is a brand new character as well.