First Look At Blue Sky's 'Epic'; New Art From DreamWorks' 'Turbo'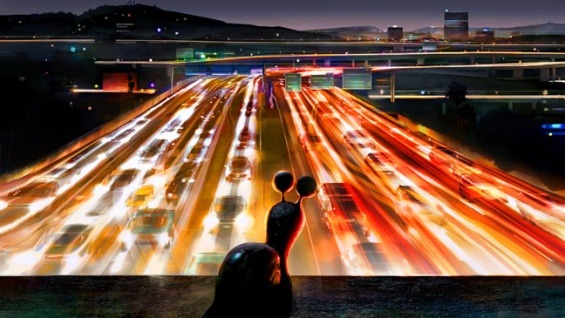 Thanks to the ongoing licensing expo in Vegas, we're getting early looks at a couple of films on our radar. The same event gave us the first tiny and not at all revealing glimpse of Fast & Furious 6 promo art earlier this week, and today we're getting an eyeful of two animated projects that have been on our radar.
The first is Blue Sky's Epic, a 3D CG-animated adventure about a teenage girl caught up in a battle between good and evil, while the other is DreamWorks' Turbo, which features the voice of Ryan Reynolds as a garden snail with racing ambitious. Check them out after the jump.
Epic boasts a star-studded voice cast that includes Amanda Seyfried, Beyonce, Colin Farrell, Josh Hutcherson, Johnny Knoxville, Aziz Ansari, Pitbull, Jason Sudeikis, Steven Tyler, Blake Anderson, and Judah Friedlander. Here's the synopsis:
EPIC tells the story of an ongoing battle deep in the forest between the forces of good and the forces of evil. When a teen age girl finds herself magically transported into this secret universe, she must band together with a rag-tag team of fun and whimsical characters in order to save their world...and ours.
I'm going to take an educated guess that that Seyfried and Hutcherson's characters are on the hummingbird, though I can't say for sure. In any case, the first bit of art appears to be appropriately magical. Blue Sky's last film, Rio, was an absolute treat to look at, so I'm eager to see what they'll do with the lush forest setting. Directed by Chris Wedge, Epic is slated to open May 24, 2013.
Turbo boasts some well-known stars of its own. In addition to Reynolds, the cast also includes Paul Giamatti, Michael Pena, Luis Guzman, Bill Hader, Richard Jenkins, Ken Jeong, Michelle Rodriguez, Maya Rudolph, Ben Schwartz, Kurtwood Smith, Snoop Dogg and Samuel L. Jackson.
We've previously seen a piece of concept art and an early poster from Turbo, but if you can ignore the bluish tint, this might be the closest we've seen to what the movie will actually look like. And it seems fine. I wish the lead character's face were a little less generic, but I'm sure DreamWorks will have a lot of fun with the bright, energetic visuals that the story requires. Here's the plot:
Turbo is a snail who dreams of being the greatest racer in the world, just like his hero, 5-time Indianapolis 500 champ, Guy Gagne. His obsession with speed and all things fast has made him an oddity and outsider in the slow and cautious snail community, and a constant embarrassment to his careful older brother, Chet. Turbo desperately wishes he could escape the slow-paced life he's living. As luck would have it, he gets that chance one fateful day after a freak accident when he suddenly finds himself vested with the power of incredible speed. Turbo embarks on an extraordinary journey to achieve the impossible: racing against the best that IndyCar has to offer. Turbo is the ultimate underdog who achieves the impossible by refusing to let his limitations get in the way of his dreams.
David Soren is directing Turbo, which hits theaters July 19, 2013.