Play Retro Arcade Game 'Fix-It Felix' From 'Wreck-It Ralph;' Plus New Character Posters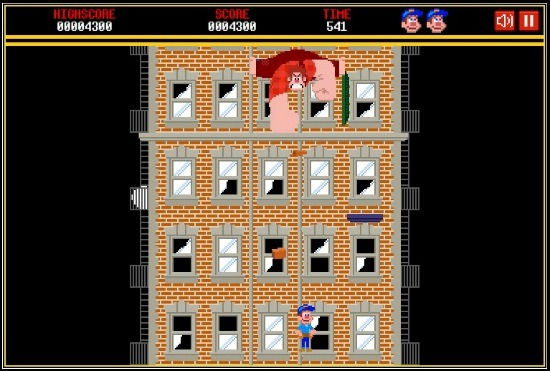 The painful five month wait until Disney unleashes its awesome looking film Wreck-It Ralph can now be filled by entering the world of the movie yourself. In the film, directed by Rich Moore, the title character (voiced by John C. Reilly) is the bad guy in a Donkey Kong/Rampage game called Fix-It Felix, with the title hero voiced by 30 Rock's Jack McBrayer. Eventually, Ralph gets fed up with his villainous role and flees the game looking for a new home in one of dozens of other recognizable, and not-so-recognizable, video games.
Disney has just released a playable, online version of Fix-It Felix for your time-wasting pleasure. Several new international one sheets have also come online showing new images of several of the main characters. Check it all out below.
First up, here's the game. You an access it by clicking the image below.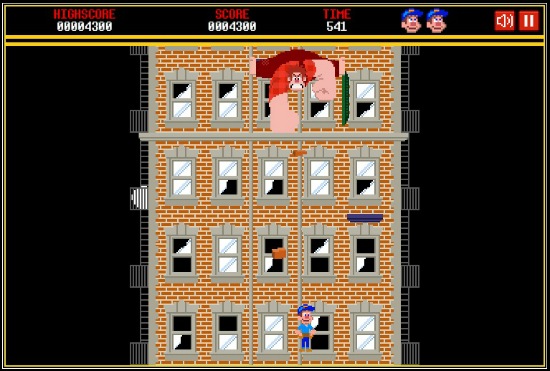 I only played for a minute or two, but it seemed pretty easy and addictive. Does the game get more difficult as it goes along? What's your high score?
Next up, Cine 1 (via Comic Book Movie) has these international character one sheets featuring Ralph and Vanellope von Schweetz (voiced by Sarah Silverman) and Sergeant Calhoun (voiced by Jane Lynch). Then there's a full one-sheet, which also has Fix-It Felix.
Here's the official plot description:
Walt Disney Animation Studios and Emmy-winning director Rich Moore (TV's "The Simpsons," "Futurama") take moviegoers on a hilarious, arcade-game-hopping journey in "Wreck-It Ralph." Ralph (voice of John C. Reilly, "Talladega Nights: The Ballad of Ricky Bobby," "Step Brothers") is tired of being overshadowed by Fix-It Felix (voice of Jack McBrayer, "30 Rock"), the "good guy" star of their game who always gets to save the day. But after decades doing the same thing andseeing all the glory go to Felix, Ralph decides he's tired of playing the role of a bad guy. He takes matters into his own massive hands and sets off on a game-hopping journey across the arcade through every generation of video games to prove he's got what it takes to be a hero. On his quest, he meets the tough-as-nails Sergeant Calhoun (voice of Jane Lynch, TV's "Glee") from the first-person action game Hero's Duty. But it's the feisty misfit Vanellope von Schweetz (voice of Sarah Silverman, "The Sarah Silverman Program") from the candy-coated cart racing game, Sugar Rush, whose world is threatened when Ralph accidentally unleashes a deadly enemy that threatens the entire arcade. Will Ralph realize his dream and save the day before it's too late? "Wreck-It Ralph" crashes onto the big screen on November 2, 2012, in Disney Digital 3D in select theaters.