'Ice Age: Continental Drift' Trailer #2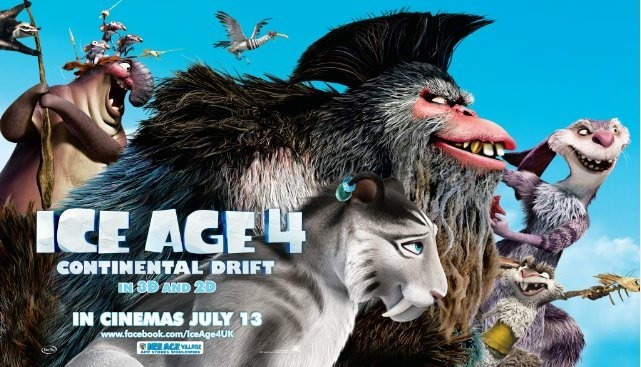 When crafting my potential summer box office top 10 for our annual wager with the Totally Rad Show, one film that I highly underestimated was Ice Age: Continental Drift. The first three films all opened at over $40 million, all grossed just under $200 million and you can be sure this one will be more of the same. For the fourth installment, Scrat unleashes a global catatrosphy which sends Manny, Diego and Sid on an adventure featuring pirates and more. A second full trailer has just been released and you can check it out below.
The trailer is in HD over on Apple but we've got an embed here.
While Ice Age: Continental Drift will surely be a box office hit, I can't say that trailer did anything to entice me – a non-fan – into seeing it. Outside of a few new characters, it looks almost completely interchangable with the last two films save for the fact that Nicki Minaj and Aziz Ansari do voices in this one and they weren't popular in 2009 when Dawn of the Dinosaurs was released.
You have to think that, at some point, the characters will be dealing directly with the end of the ice age and total extinction. Or maybe not. The second film was called The Meltdown and yet Fox and Blue Sky squeezed two more sequels out of the franchise.
At least that Simpsons short film will be premiering before this.
Here's the official plot description of Ice Age: Continental Drift:
Scrat's nutty pursuit of the cursed acorn, which he's been after since the dawn of time, has world-changing consequences – a continental cataclysm that triggers the greatest adventure of all for Manny, Diego and Sid. In the wake of these upheavals, Sid reunites with his cantankerous Granny, and the herd encounters a ragtag menagerie of seafaring pirates determined to stop them from returning home.
Ice Age: Continental Drift opens July 13. What do you think of the trailer?