New Images: Guillermo Del Toro's 'Pinocchio', DreamWorks' 'Mr. Peabody And Sherman'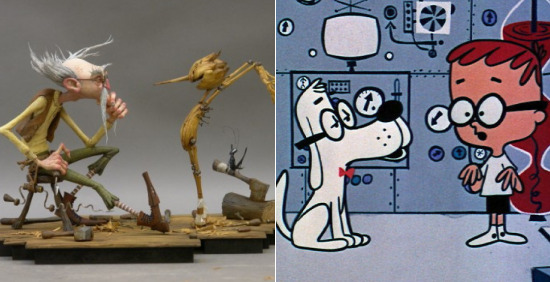 Even as we anticipate this year's big animated pictures, including Pixar's Brave, we're already getting curious about two projects that have been simmering for a while but won't hit for another couple of years. After the jump, check out a fresh bit of concept art from Pinocchio, a 3D stop-motion project being directed by Guillermo del Toro and Mark Gustafson, and take a peek at the title characters from DreamWorks Animation's 3D CG-animated Mr. Peabody and Sherman.
The Film Stage picked up the new pieces of Pinocchio concept art from Entertainment Weekly, which describes the scenes as "Pinocchio heading for a dip in the sea with one of puppet-theater Mangiafoco's monkeys" and "the woodcarver Geppetto sculpting his wooden 'son'" (bottom left).
They're certainly of a piece with the earlier art we've already seen, and they're obviously very different from the famous Disney take on the Carlo Collodi tale — which del Toro says can only be a good thing. "If I thought it would be similar I would be very afraid," he comments. "You cannot top Disney." Instead, Guillermo and Gustafson are taking their inspiration from the works of Gris Grimly, who illustrated a 2002 book and serves as producer here. Production is slated to begin in summer 2013 for a 2014 release.
DreamWorks' CG spin on the classic '60s cartoon Mr. Peabody and Sherman goes down a more expected path, but I can't argue with the cute results. Collider posted the first image from the movie, along with this synopsis:
Based on Jay Ward's classic cartoon, Mr. Peabody is the world's smartest person who happens to be a dog. When his "pet" boy Sherman uses their time traveling WABAC machine without permission, events in history spiral out of control. It's up to this most unexpected of "father-son" teams to somehow put things back on track before the space-time continuum is irreparably destroyed.
The brilliant Mr. Peabody is being voiced by Modern Family's resident doofus Ty Burrell. Max Charles, soon to be seen portraying "Peter Parker – age 7" in The Amazing Spider-Man, voices Sherman. There's not a whole lot to say about this, as the new versions of the characters really look exactly like you'd think CG-ified versions of the original characters would look. Not that that's a bad thing; it's just not very exciting to write about. Directed by Rob Minkoff (The Lion King), Mr. Peabody and Sherman is scheduled to open March 14th, 2014.