Vanilla Ice Hints At Appearance In Michael Bay Produced 'Ninja Turtles;' Filming Starts Later This Year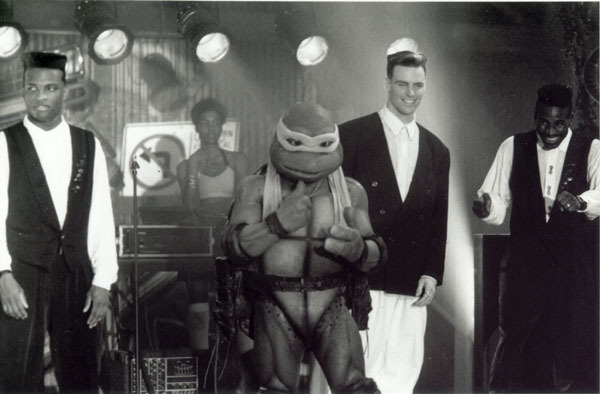 Will Vanilla Ice be ninja, ninja rapping in the new Ninja Turtles reboot? It's possible. Or, at least, that's what could be discerned from his (non) comments in a new interview. The rapper-turned-actor-turned home remodeler, whose real name is Robert Van Winkle, appears in next week's That's My Boy and was recently discussing his Teenage Mutant Ninja Turtles fandom with MTV. He then refused to comment when asked about possible involvement with the new film, which will reportedly start shooting in Vancouver later this year. Watch the clip and more after the jump.
The below clip comes from MTV News (via CBM). The news about filming later this year came from The Province.
Get More: 2012 Movie Awards, New Movies
Let's be honest here. With everything we know about this Platinum Dunes take on Ninja Turtles, does Vanilla Ice really fit in? Not likely. More likely? Ice's publicist told him if he was asked about the film, don't comment because it sounds like a confirmation and then gets articles like this written. Well played, publicist.
Since that explanation isn't fun, though, let's hypothesize. Rapper Kid Cudi also recently commented that he would be involved with the film and the producer, Brad Fuller, more or less confirmed that with a retweet. Since Cudi is a little more culturally relevant in 2012, a song or small part is likely, but this Ice news might shine a new light on the subject. Is there some kind of concert scene or music subplot to Ninja Turtles that will require multiple rappers? Or maybe the soundtrack will be straight hip hop, giving the film a more gritty feel and that's why both men have hinted they'll be involved?
If one of those things is the case, including Ice would certainly be a nice nod and acknowledgement to the fans. Who can forget this gem from The Secret of the Ooze.
So what do you think? Is Vanilla Ice going to be in Ninja Turtles or is just an elaborate publicity scheme?
Image: Film Drunk