Wes Anderson's 'Moonrise Kingdom' Short Film Now Online; Plus His Favorite New York Films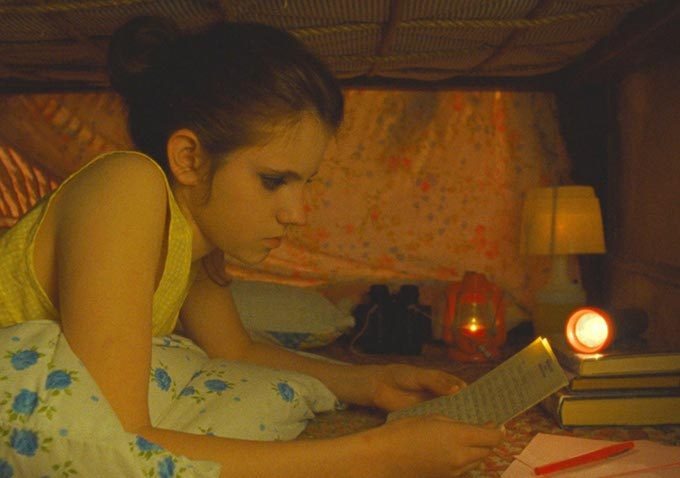 As promised last week, Wes Anderson has released a short companion piece to his latest film, Moonrise Kingdom. It's a series of six animated sequences from the fictional books Suzy Bishop (Kara Hayward) reads in the film, which is now playing in NY and LA and will open wider throughout the month.
After the jump, watch the film, read more about its conception and find out about Wes Anderson's favorite New York films. Later today, check back for our one-on-one interview with the director.
According to Entertainment Weekly, Anderson's initial thought with Moonrise Kingdom was when Suzy reads her books (a huge part of her character), the film would break into animation. That idea fell by the wayside, though, and it wasn't until much later that he decided to have people animate short passages from six of the books as an online suppliment. Here's Anderson:
I wrote passages for the other books that didn't have any text [read aloud in the film], and we animated that too So we now have this piece where our narrator, Bob Balaban's character, takes us through these little sections of each of these books.
The video is over at EW but, it's not embeddable. So click on the below image to head there.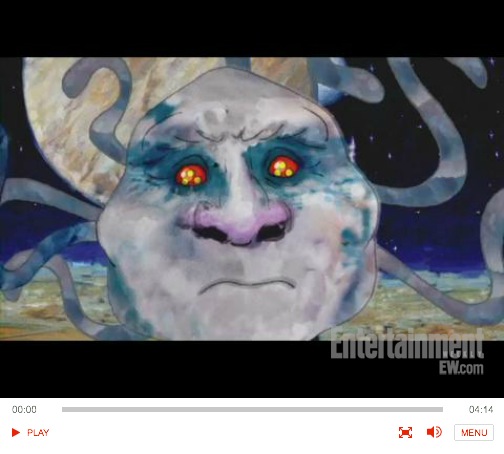 Totally unrelated, save for the Wes Anderson connection, the New York Daily News asked the director what his favorite New York films were and FlavorWire went ahead and did a little montage of the movies. Check it out below.
And in case you don't have the patience for a 10 minute video, here are Anderson's thoughs on each film.
"The Plot Against Harry" (1989) — "It's one of those known movies that's not that widely seen, about this slightly older Jewish gangster who gets out of prison after doing a couple of years and is dealing with all kinds of life problems. It has a little bit of 'The Sopranos' in it except that there is no violence whatsoever in the movie that I can recall. It is very well written, and has a certain gentleness about it."
"Girlfriends" (1978) — "This is one I read about in some old interview with Stanley Kubrick. It's a very good movie about a girl who is dealing with being on her own and figuring out how to become a photographer. It's like a 16 millimeter independent film directed by a woman named Claudia Weill. Christopher Guest has a small part in it, too."
"The Apartment" (1960) — "I love this movie very much. My girlfriend had never seen it before and we just watched it two nights ago. It's such a good Billy Wilder movie."
"Moonstruck" (1987) — "I've always loved this script. It's a very well-done Hollywood take on New York. Nicolas Cage, John Mahoney, Cher, Olympia Dukakis and Vincent Gardenia are great in it."
"New York Stories" (1989) — "I love the Martin Scorsese section of this movie, which is about a painter played by Nick Nolte. The setting is this wonderful sunny Tribeca/SoHo loft where he's this abstract expressionist, and it's written by Richard Price, who is a New York voice."
"Sweet Smell of Success" (1957) — "Here's a classic staple of New York movies. The look of it is this distilled black-and-white New York and Clifford Odets writes great dialogue."
"Rosemary's Baby" (1968) — "It has a Dakota setting and Roman Polanski is one of my favorite filmmakers of all time. This is a movie that I've watched a trillion times. Mia Farrow and the whole cast are really strong."
"Next Stop, Greenwich Village" (1976) — "I saw the movie many years ago and I don't really remember much other than loving it. I love Paul Mazursky's films. He's a New Yorker who is a great writer-director."
"Hannah and Her Sisters" (1986) — "Easily my favorite Woody Allen movie."
"New Jack City" (1991) — "I just like the title. I never actually saw the movie but the title has always stuck with me. It's a great way to refer to New York City. What does it even mean?"
I love that Anderson lists New Jack City but he's never actually seen it. Hilarious.
What do you think of his list? How about the short film?