TV Bits: $30,000 Iron Throne Replica Is The Ultimate Piece Of 'Game Of Thrones' Memorabilia, Plus: 'Mad Men', 'Tron: Uprising', Jennifer Westfeldt, Rebel Wilson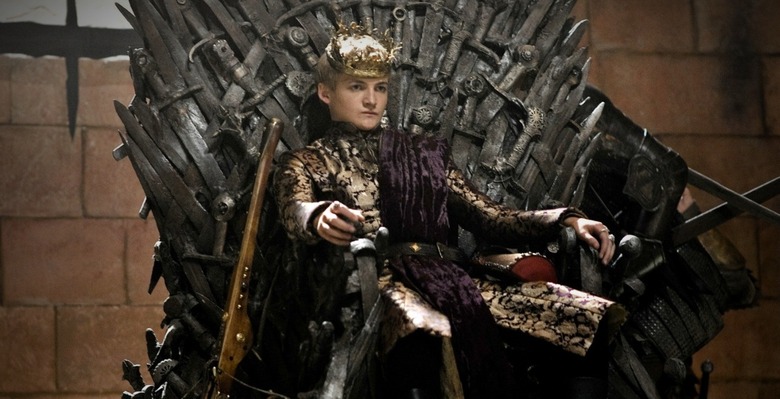 For the princely (or make that kingly) sum of $30,000 plus shipping and handling, you can spend the next season of Game of Thrones watching from an Iron Throne of your very own. Also after the jump:
Bruce Boxleitner says Tron: Uprising is "not a kiddie show"
Friends With Kids' Jennifer Westfeldt goes to HBO
Rebel Wilson's Super Fun Night could be headed to ABC
Is a Mad Men star leaving the show for good?
Though Uprising centers around a new character named Beck, it'll also fill in some blanks about what, precisely, happened to Tron in between the events of the two films. "I do know, because [Tron: Uprising] falls between the first movie and Tron: Legacy, where ultimately he's going to end up: wearing that black suit and working for the man," notes Boxleitner.
But don't expect that transformation to see Tron straying too far from his serious core. "Tron, he's never going to be Flynn. And as a human, Alan Bradley doesn't have a lot of humor either," he observes. Uprising debutes June 7 on Disney XD. [THR]
HBO is continuing its habit of bringing on big-screen talents with a new series by Jennifer Westfeldt, the writer/director/star who most recently wrote, directed, and starred in the indie romcom Friends With Kids. Westfeldt spilled the news in an interview with The Guardian, explaining that she's developing with the premium cable network on a new drama-comedy show, in which she hopes to star.
Unfortunately, no details about the new series have been revealed at this point, but judging by Westfeldt's past work — she also wrote Ira & Abby and Kissing Jessica Stein — I'm going to guess it'll deal with adult relationships with her usual sharp, funny touch. We'll be keeping an eye on this one to see what comes of it.
CBS' loss could turn out to be ABC's gain, as the latter is closing a deal to "re-pilot" Super Fun Night after the former passed on it. The comedy stars Bridesmaids actress Rebel Wilson as one of three awkward female friends and their "funcomfortable" attempts to have "super fun" every Friday night. Wilson, who also serves as co-executive producer, will remain the lead, but it's unclear if her co-stars Jenny Slate and Edi Patterson will be moving with her into the ABC version of the pilot.
According to Deadline, Super Fun Night was set up as a multi-camera show for CBS but will now be revamped for the single-camera format, the better to go with other ABC comedy series like Happy Endings and Don't Trust the B— in Apartment 23. ABC's hope is to build youthful, edgy comedy block centered around Happy Endings, and Super Fun Night could be a good fit for the roster.
Over the last season of HBO's Game of Thrones, we've seen characters slaughter each other, birth demon babies, and raise vicious dragons, all in the pursuit of the coveted Iron Throne. But in our civilized, non-fantasy universe, all it takes is $30,000 (plus $1,800 shipping and handling) to get an Iron Throne of your very own. Really, compared to the thousands of lives it's costing Westeros' would-be kings for a chance to sit on the real royal seat, that's an unbelievable bargain.
You can head to HBO.com to order the life-sized replica, which will be made of fiberglass and resin rather than the swords of one's enemies. At 350 pounds and over 7 feet tall, it's definitely a massive piece of statement furniture, but if you've got an extra $30,000 lying around to spend on a glorified chair I'd imagine you also have a house big enough to fit it in. [via The AV Club]
[Before we move on to this last item, I should warn you that major spoilers for the last two episodes of Mad Men follow.]
The most recent episode of Mad Men, "Commissions and Fees," saw us saying a tragic goodbye to the Pryce of Sterling Cooper Draper Pryce. But according to comments made by the actor who played him, Jared Harris, Lane may not be the only employee whose time at SDCP has come to a permanent end.
In an interview with The Daily, Harris hinted that Elisabeth Moss, whose character Peggy left for another job in "The Other Woman," may be off the series as well:
You know, we're always ending things. Actors are always ending jobs. It isn't a big deal in that sense. Also other people had left the show that had been there since the beginning. Elisabeth [Moss] left the episode before and she'd been there since the beginning. Michael Gladis (Paul Kinsey) left in season three [though reappeared for one episode this season]... Bryan Batt. People leave and it's just part of it. They didn't make a giant fuss.
The actor quickly backpedaled, however, when asked whether Peggy was indeed "dead" to the show. "Um... I have no idea what Matthew Weiner intends to do and even then I couldn't tell you," he said.
If indeed Peggy is no longer with the series, it's a huge loss. With the obvious exception of Don Draper, no other character has been central to the series — which makes it hard for me to believe that was really the last we'll ever see of her. But unless she makes an apperance in this weekend's season finale, it'll be a long time before we catch up with her again in any case. [via TV Line]