Mark Millar Says New 'Justice League' Script Is "Dark And Mature"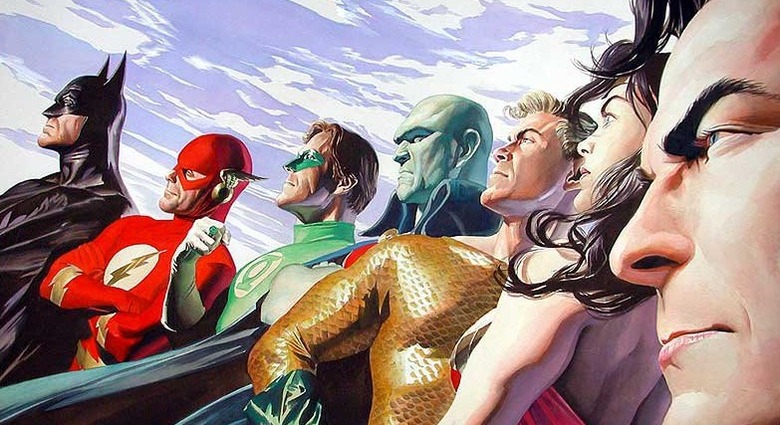 The timing of yesterday's Justice League news initially made it seem as though Warner Bros. was finally getting the ball rolling in reaction to Marvel Studios' super-sized success with The Avengers, but in fact the project's been brewing for quite a while. Although we only heard about Gangster Squad scribe Will Beall's hiring last night, he actually signed on about a year ago and has been working on the picture ever since.
While the script hasn't been finalized just yet, it's apparently far enough along that word about it has reached Mark Millar's ears. According to the comic book writer, who knows a guy who knows Beall, Warner Bros.' new take on the superhero team will be "dark and mature," with a "very real-world" feel. Read his comments after the jump.
A pal of mine is good friends with the new Justice League screenwriter and said his take on the team is incredible. Very real-world and not at all what you might expect. WB has a chequered history with their superhero characters. They're great with their boy wizards, but less consistent with their DC stable. But my chum said that this could be a thing of beauty and has been in the works for a little while now, not just an avengers knock-off. Best of luck to them. The tidbits I heard sound quite dark and mature, which isn't what I expected. But word on Gangster Squad is great too so I feel this is in really good hands.
It's worth pointing out that the script Millar's friend saw was almost certainly not a final draft, and could evolve significantly before cameras actually start rolling. And with no director or stars on board just yet, we have no idea what the other cast and crew will bring to the film either. Then there's the fact that this description comes to us secondhand; Millar himself didn't actually read the script, and we have no way of knowing how much or what parts of the screenplay Millar's friend saw, or what his friend's tastes are like.
If Millar's description can be believed, though, it sounds like the movie's off to a promising start. Marvel's tended to be a little more playful with its heroes — The Avengers wasn't a comedy per se, but it had plenty of jokes — but it sounds like Beall may be going for something more along the lines of Warner Bros.'s gritty Christopher Nolan Batman series. Which is fantastic news, as the last thing I think any of us want to see is a lazy DC knockoff version of The Avengers.