Rumor: One Of Marvel's Next Films Will Be 'Black Panther'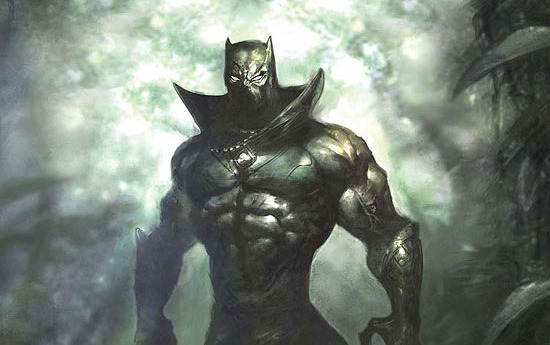 With The Avengers turning into the third-biggest film of all time, there are more questions than ever about what Marvel Studios will do next. There have been quite a few rumors, some fostered by Marvel, some not. Studio president Kevin Feige has talked about the possibility of a Doctor Strange film, or one featuring the Guardians of the Galaxy. There's Edgar Wright's Ant-Man, which seems to be inching closer to reality, and that Runaways movie that Marvel back-burnered a while ago.
Plus there has been talk of films for other characters, such as Luke Cage, Black Panther, and even Moon Knight. But if one report is correct, it's Black Panther that will be on screens before most of those other cats.
Latino Review says one of Marvel's yet to be announced films will be Black Panther, but that's all the info the site has. We know that the studio commissioned a script last year from Mark Bailey, who seemed like a left-field choice. Bailey's work includes documentaries such as Thank You, Mr. President: Helen Thomas at the White House, Pandemic: Facing AIDS and A Boy's Life, and he scripted an adaptation of the non-fiction book The Last of the Tribe: The Epic Quest to Save a Lone Man in the Amazon, which Doug Liman (The Bourne Identity) was once going to direct.
There have been nods to the Black Panther in a couple other Marvel films: we saw his home country Wakanda on a map in Iron Man 2, and that land is the home of the stuff from which Captain America's shield is made. And there's stuff in the classic Black Panther story that would fit in with the world Marvel has built on screen so far: T'Challa, the king of Wakanda, ingests an herb that both links him to his god, and provides superhuman strength. Convenient! T'Challa's aim is to make Wakanda a technological powerhouse, and the character has been a member of the Avengers.
So is that what we can expect to see on screen? In the style of other Marvel movies, whatever script Bailey has written would likely change some things but keep the core aspects of the character. Black Panther has a dedicated audience, but he would be the closest thing to a niche character given a starring role by Marvel if this news is correct. (Ant-Man, in development by Edgar Wright, would be the next closest, but that film isn't dated or greenlit yet.)
At this point Marvel's schedule is set through mid-2014. There is one film that has been dated for May of that year, the title of which is unannounced, and there is another film Marvel plans to make that doesn't even have a release date yet. We can expect that for 2015, most likely. Black Panther could take either of those last two dates, most likely the first, so that he could participate in another Avengers film.
Here's the Marvel release schedule as we know it:
May 3rd 2013 – Iron Man 3
November 15th 2013 – Thor 2
April 4th 2014 – Captain America 2
May 16th 2014 – Untitled Marvel Movie #1