Star Trek Bits: Roberto Orci And Damon Lindelof Answer Questions, J.J. Abrams Drops Klingon Hint On MTV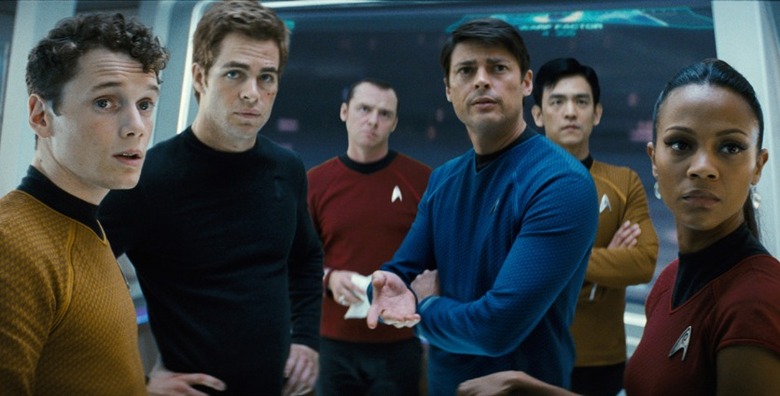 Because Damon Lindelof co-wrote Prometheus, which comes out this weekend, he's been talking to the press quite a bit lately, and dropping a few Star Trek sequel tidbits along the way. After the jump, read his comments on the improved Enterprise set, star Benedict Cumberbatch, and the secrecy surrounding the sequel. Also check out highlights from Roberto Orci's impromptu fan Q&A on TrekMovie.com, and discuss what a Klingon was doing in the background of J.J. Abrams' MTV Movie Awards skit.
There's certainly an instinct to just go bigger in the second movie and one of the things that we did was we connected all the sets, so you can just basically follow the actors off the bridge, into a turbo lift, down, walking through a plaza, into the med bay as opposed to [having to] cut every time you do that, because when we were shooting on the Paramount stages we just didn't have the money to connect all the sets.
Sounds great. Lindelof also spoke about the pleasure of watching the actors work together (including newcomer Alice Eve, whom he called "awesome"), but saved his biggest praise for Benedict Cumberbatch's work as the villain who may or may not be Khan:
Benedict Cumberbatch, I can already say with a certain degree of confidence that he is gonna give an iconic film performance and one of the best sci-fi performances that I've ever seen. And not even having seen the movie yet, just sitting there in video village with the headphones on. So I'm really psyched.
Not that Cumberbatch's talent comes as a surprise to anyone who's seen the UK series Sherlock, of course. Head to Collider to watch the video from the interview.
Lindelof also got into a nice meaty discussion with TrekMovie.com. Asked about the intense aura of secrecy surrounding the film, Lindelof asserted that he didn't think fans really wanted answers to all their questions:
We want to leave some air of mystery and intrigue surrounding the movie. Because as much as people clamor for information, I really fundamentally believe they don't want to know. It is modulating that desire between "I know that my Christmas presents are in my parents closet and if I open it up I can see what I will get." But, on Christmas morning when you see those same gifts under the tree, you know what's inside and there is a part of you that wishes you hadn't peeked. So it is up to us to lock the closet tight.
It's true that part of the fun of Star Trek (or really any project involving Abrams or Lindelof) is not knowing what to expect, so as curious as I am to know more I have to admit he has a point. But Lindelof acknowledges that they'll have to reveal a little more at some point, noting that the teaser trailer would likely offer the first good look. When we'll get to see that video, however, is still up in the air.
I'm not going to confirm or deny that [the trailer will be at Comic-Con]. Our feeling is, that if we can get something together that is worthy of showing on that timetable, then we will most certainly show it. But, if it is sub-par or not ready or requires more post-production, then nobody at Comic Con is going to want to hear us say "hey this is very temporary, but we wanted to show you something." We need to put our best foot forward. We just wrapped principal photography as you know and Comic Con is in mid July so it is an aggressive timetable. If we are going to go we are going to go big or not go at all.
For all our sakes, let's hope they manage to go with "going big" rather than "not going at all." Read the rest of the interview here.
Meanwhile, also over at TrekMovie.com, Lindelof's co-writer Roberto Orci spontaneously dropped by the site to field some fan questions. Orci kicked off the conversation by writing, "On an airplane with a glass of wine in my hand. Good time to try and trick me into revealing something" and then gave up some minor reveals about the new movie. Here are some of the highlights:
(Maybe) confirmed that Klingons are in the sequel (then sort of backtracked)
Did confirm Klingons (if they appear) will have ridged foreheads (like in 2009 deleted scenes)
Title for sequel still being debated
Hopes that first teaser will be "very soon"
No word yet on what's going on for San Diego Comic Con (but will know soon)
Sequel was "harder" to write than the first Trek due to lower expectations for the first one
Animated show still a possibility
"More than a few" hints have already been dropped into ongoing comics
Harry Mudd is NOT the villain in the Star Trek movie –
No comment if Nimoy will appear
Watched all of original Star Trek series and TOS movies to prep for sequel, took away " a better sense of tone and where our heroes are supposed to be like once they mature out of 09"
Hardcore fans will definitely want to drop by the site to read the Q&A transcript in full.
But Lindelof and Orci aren't the only one who've been teasing Star Trek 2 tidbits lately. Some eagle-eyed viewers noticed an interesting figure in the background of a skit that director J.J. Abrams did for the MTV Movie Awards. In it, Abrams jokes that he had to cut out a Klingon subplot from the upcoming sequel — and a screen behind him shows a masked figure that, indeed, appears to be a Klingon. Here's the video:
Did you catch it? Here's a blurry close-up of that mysterious figure: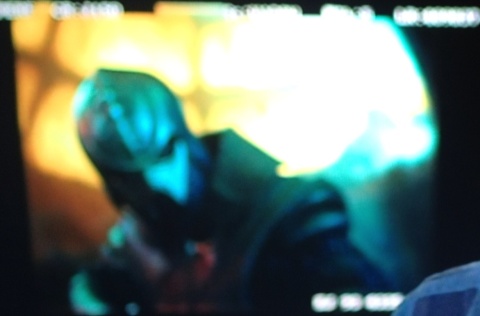 Klingons were originally set to appear in Abrams' 2009 film, but wound up on the cutting room floor. TrekMovie.com offers this look at a Klingon in a deleted scene from that movie: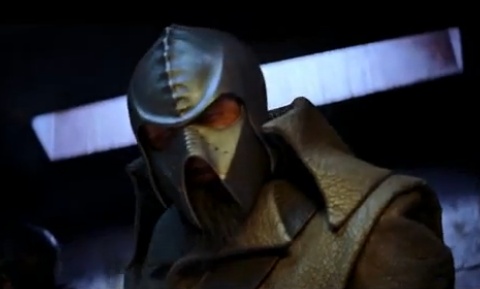 So yeah, that was indeed a Klingon in the MTV sketch. But what does it mean? Sources who spoke with HitFix were careful not to give away too much, but noted that the Klingon didn't get in there by accident — which suggests that they will be making an apperance in the new film. We still don't know exactly what role they'll be playing in the plot, however... or for that matter, what the plot is.
Klingon or no Klingon, Khan or no Khan, Star Trek 2 opens May 17, 2013.