Sequel Bits: Ridley Scott Describes 'Blade Runner' Sequel Scene, Plus: 'Men In Black 3', 'Iron Man 3', 'A Good Day To Die Hard', 'The Expendables 2'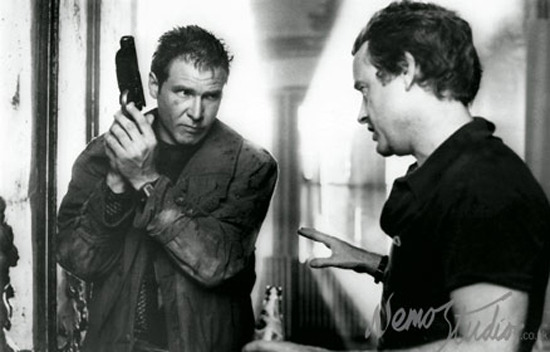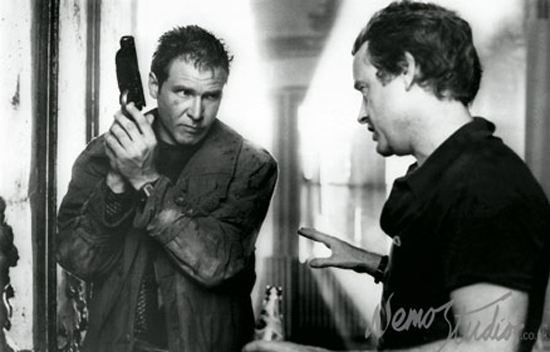 Where the original Blade Runner was known for its neon urban landscapes, the Blade Runner sequel will take us all the way out into flat, dusty farm country — or so says Ridley Scott, while describing one scene he's already visualized for his upcoming project. Also after the jump:
Men in Black 3 concept art shows deleted scenes, alternate Boris the Animal design
Find out when and where Iron Man 3 is shooting in North Carolina this week
Red, white, and blue balloons dot new set photos of A Good Day to Die Hard
Lionsgate unveils a second TV spot for The Expendables 2
In an exciting recent interview, the filmmaker teased one scene he's already visualized for the film:
There'll be a vast farmland where there are no hedges or anything in sight, and it's flat like the plains of—where's the Great Plains in America? Kansas, where you can see for miles. And it's dirt, but it's being raked. On the horizon is a combine harvester which is futuristic with klieg lights, 'cause it's dawn. The harvester is as big as six houses. In the foreground is a small white clapboard hut with a porch as if it was from Grapes of Wrath. From the right comes a car, coming in about six feet off the ground being chased by a dog. And that's the end of it, I'm not gonna tell you anything else.
Because the project is still in its very early stages, we don't know for certain whether this picturesque scene will actually make it into the movie. But it sounds pretty fantastic, doesn't it? Hit Collider to see their video of the director outlining the sequence.
The most memorable of Men in Black 3's many aliens was the villainous Boris the Animal, (Jemaine Clement), but it turns out the extraterrestrial prisoner almost had a very different look. In a new interview, concept artist Craig Shoji offered a look at his initial design for the character:
There was an early design for Boris from Rick Baker's team that I was referencing for that shot. It was before they settled on the prison garb, and refined all the finger-esque claws on him. I was responsible for illustrating the scene from the script when Boris blasts the hole in the prison and everyone flies out, but the details of how he 'clamps' down on the floor weren't worked out yet.
In addition, he also had work from two scenes that never made the cut — one set at a galaxarium, and another set at the morgue:
Ah yeah, there were a couple scenes that didn't make it. I think Barry decided they slowed the pace down too much. There were a couple scenes written in where Will and Josh spend more time in 1969 in these different sets (galaxarium, and the morgue) digging up more info on Boris and his plans, but they got axed.
Head to FilmSketchr to read the interview in full and check out more art. [via Comic Book Movie]
We've known for months that Iron Man 3 would be shooting in North Carolina, and now that shooting is actually underway we have more specifics on when and where. According to WECT (via Comic Book Movie):
Iron Works productions plans to film at least one [driving] scene of Iron Man 3 in Cary next week. The production's Assistant Location Manager Ben Stolte requested four motorcycle officers from the Town of Cary to escort a caravan down the street as crews are filming and to briefly hold traffic at a few intersections they would cross in the process.
Meanwhile, an On Location Vacations reader reports, "Iron Man 3 is expected to film scenes on Caitboo Ave behind Crossroads Cinema in Cary, N.C. on Monday (6/4) and Tuesday (6/5) from 6:00 A.M. to 6:00 P.M. And yes, Robert Downey Jr. will be there!" According to the site, there will also be shooting at the "SAS campus likely using Harrison Avenue, Cary Parkway or Weston Parkway" on June 6. In addition, another tipster says, "Iron Man 3 will be filming at SAS in Cary, NC on Monday through Wednesday. There will be lots of extras and minimal overnight security presence."
As for shooting that's already taken place, OLV's sources reveal that the production was filming in the studio last week with the exception of Tuesday, when they shot the Iron Patriot scene at the ILM airport. The sequence reportedly involves the president traveling with military and secret service. We'll see what comes of all of this when Iron Man 3 hits May 3, 2013.
Meanwhile, Coming Soon has picked up some set photos from another high-profile action sequel that's currently underway. Check out new images from the Hungary set of A Good Day to Die Hard, which sees Bruce Willis reprising his role as John McClane and Jai Courtney playing his equally badass son Jack.
Head over to their site for more snapshots. A Good Day to Die Hard is scheduled to hit February 14, 2013.
Speaking of Willis: Lionsgate has dropped a second TV spot for The Expendables 2, the sequel to 2010's star-studded actioner. Joining returning stars Sylvester Stallone, Jason Statham, Jet Li, Dolph Lundgren, Terry Crews, and Randy Couture this time around are Liam Hemsworth and Yu Nan, who play the newest additions to the team.
The Expendables 2 opens August 17. [Coming Soon]