'House At The End Of The Street' Trailer - Katniss Everdeen As Standard-Issue Scream Queen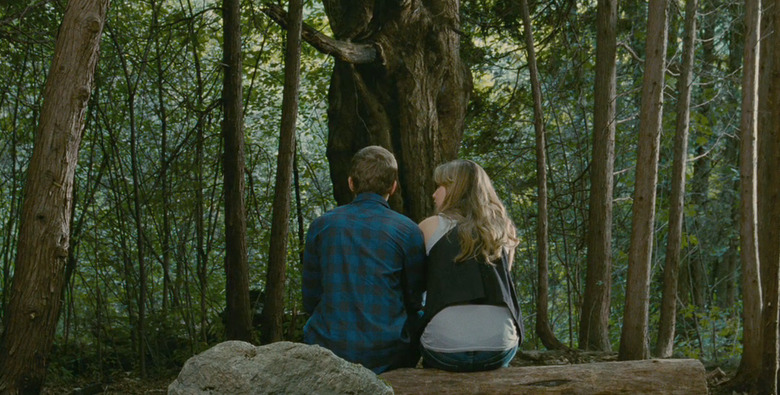 The Hunger Games launched Jennifer Lawrence into a whole new level career-wise, and she's got no shortage of promising new projects due out over the next couple of years. She's already finished shooting David O. Russell's The Silver Linings Playbook and is currently tied up with Susanne Bier's Serena, and beyond that she's got sequels lined up for both The Hunger Games and X-Men: First Class. But her next big-screen appearance will actually be for a film she shot before she ever picked up Katniss' bow and arrow.
Back in 2010, Lawrence shot a horror thriller called House at the End of the Street. Though it's not a direct remake of anything, as far as I'm aware, it's apparently influenced by Alfred Hitchcock's Psycho — according to a description that was floating around a couple of years ago, House at the End of the Street was intended to be for that film what Disturbia was for Rear Window. The Mark Tonderai-directed film also stars Elisabeth Shue and Max Thieriot. Watch the new trailer after the jump.
[via First Showing]
This looks... fine. There's nothing egregiously awful about this trailer, but there's nothing to suggest it'll be anything special, either. Mostly it just seems forgettable. I've no doubt Lawrence does what she can to liven up the generic scream queen role, but I'm glad she's since been able to move on to more interesting, challenging work.
House at the End of the Street has had its release date shuffled around a couple of times, but is now scheduled to bow September 21.
Seeking a fresh start, newly divorced Sarah (Oscar(R)-nominee Elisabeth Shue; Leaving Las Vegas, Piranha 3D) and her daughter Elissa (Oscar(R)-nominee Jennifer Lawrence; X-Men: First Class, Winter's Bone) find the house of their dreams in a small, upscale, rural town. But when startling and unexplainable events begin to happen, Sarah and Elissa learn the town is in the shadows of a chilling secret. Years earlier, in the house next door, a daughter killed her parents in their beds, and disappeared – leaving only a brother, Ryan (Max Thieriot, My Soul to Take), as the sole survivor. Against Sarah's wishes, Elissa begins a relationship with the reclusive Ryan – and the closer they get, the deeper they're all pulled into a mystery more dangerous than they ever imagined.