Remake Bits: David Hasselhoff Wants 'Gone With The Wind' Remake, WWE's 'Leprechaun' Hires Writer, Joel Kinnaman Talks New 'Robocop'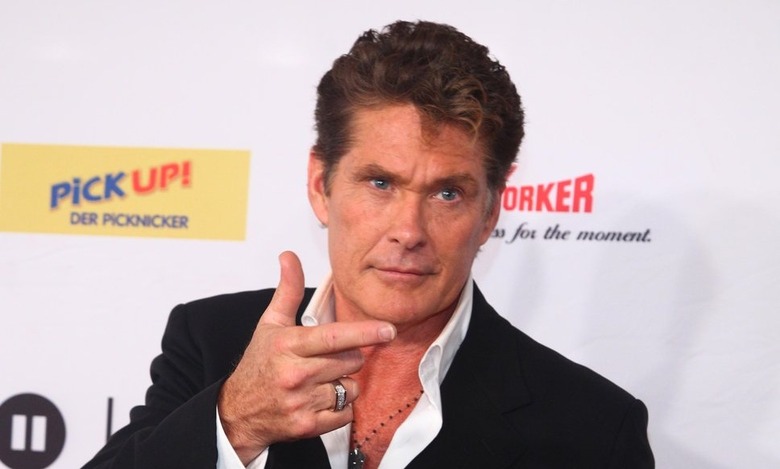 In this current remake-happy cinematic climate, that Gone With the Wind is being eyed for a do-over isn't much of a shocker — but the name behind it certainly is. In an interview with NextMovie, former Baywatch star David Hasselhoff expressed his desire to star in a remake of the classic romance from 1939, and even offered up one idea about the casting.
Hasselhoff told the site that his manager had been unhappy with him for signing on to the ultra-campy Piranha 3DD. "He wants me to do a Knight Rider film or Nick Fury, which I was supposed to do, or a remake of Gone With the Wind," Hasselhoff said. Later in the conversation, he brought up the potential Gone With the Wind project again. "Hopefully the Gone With the Wind will come, hopefully something great will happen."
Naturally, the conversation then turned to who could tackle the iconic Scarlett O'Hara role opposite Hasselhoff's Rhett Butler. Hasselhoff suggested Rachel Weisz, though he initially referred to her as "Rachel Rice." "I think she's hot," he said.
After the jump, WWE's Leprechaun remake hires a writer and Robocop star Joel Kinnaman offers up new details.
Deadline reports that Harrison Wilkinson has been hired to write the script, which has WWE wrestler Dylan Postl (a.k.a. Hornswoggle) set to play the titular creature. Wilkinson's previous work includes a spec script called Ink, which was picked up by Paramount last year, and a pilot with Len Wiseman that failed to make the cut at Fox two seasons ago.
Right now, Joel Kinnaman is best known to U.S. audiences as homicide detective Stephen Holder on AMC's The Killing. But if all goes well with José Padilha's Robocop remake, that could be about to change. In a recent interview with Collider, Kinnaman teased a few bits of info about his big upcoming role, which he says will start shooting in September.
Kinnaman was clear about Padilha having "a completely different take on this than [original Robocop director] Paul Verhoeven had," describing the new version as "a new story within the old one." But he was careful, too, to emphasize how much respect he and the rest of the cast and crew had for the 1987 film. "[E]verybody that's involved in this movie loved the original," he said. "We're going to have a lot of throwbacks and there's going to be a lot of fun stuff for the fans of the first movie."
One of the more significant changes we're already aware of is the addition of Norton, a scientist to be played by Gary Oldman. The character, who is responsible for creating Robocop, did not appear in the original movie, but will play a key role in the remake. "[Oldman and I] have great scenes that have a lot of the substance that I was talking about," said Kinnaman. "It's very much a relationship between Gary Oldman's character and Alex Murphy."
While it'll be tough for any remake to do the beloved sci-fi classic justice, it's heartening to know that Padilha and company are trying to make something new out of it, rather than simply rehashing the old movie. We'll see what comes of their efforts when Robocop hits August 9, 2013.