LucasFilm Announces Mature Video Game 'Star Wars 1313': Is It Related To The Live-Action TV Series?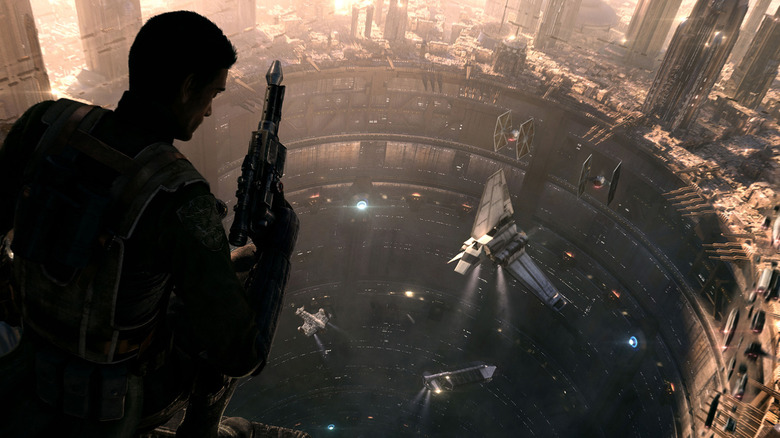 Deep below the surface of Coruscant, a lethal bounty hunter hunts down targets while exploring a whole new side to the Star Wars universe. LucasFilm has just revealed, as expected, they're developing a new game called Star Wars 1313, a third person, action adventure shooter that promises to explore much more "mature themes" than previous Star Wars games and show "the worst of the worst of the Star Wars galaxy."
That sounds oddly like how producer Rick McCallum has described the eventual Star Wars TV Show, doesn't it? After the jump, we'll explore the links and show a bunch of images and footage from Star Wars 1313.
The Star Wars 1313 announcement came on Spike TV's Game Trailer show, which you can watch in full below.
Get More: GameTrailers.com, GTTV – E3 First Look Special, PC Games, PlayStation 3, Xbox 360
And here's a little back story on the game from its official Facebook page:
Named for Level 1313, a ruthless criminal underground deep below the surface of the planet of Coruscant, the game puts players in control of a deadly bounty hunter as he uses an arsenal of exotic weaponry to hunt down his marks and uncover the truth surrounding a criminal conspiracy. Star Wars 1313 emphasizes epic set pieces and fast-paced combat with a hero who uses human skills and gadgets, rather than supernatural Force powers, to make his way through this dangerous world.
Kotaku screencaped a possible images from the game off its official site. They have more but I only chose these two cause the rest look like straight lifts from the prequels (Who am I kidding? So do these.) The color image is from Entertainment Weekly and is a legit, 100% piece of concept art.
Finally, over on Rebelscum, there is some other info on the game, including how motion capture is playing into it among other things. Star Wars 1313 will have its huge unveiling at E3 in Los Angeles, CA next week so expect to hear more and you'd have to imagine with its title, it'll be released in 2013.
Now that you know everything about Star Wars 1313, let me remind you of this description Rick McCallum gave of the Star Wars TV show (which he recently said is NOT called Star Wars Underworld, even as a working title):
Basically, it is like 'The Godfather'; it's the Empire slowly building up its power base around the galaxy, what happens in Coruscant, which is the major capital, and it's [about] a group of underground bosses who live there and control drugs, prostitution.
It certainly sounds similar to the video game, does it not? You'd have to imagine there's some overlap here either with a few characters (Lucasfilm would not announce the name of the main character in 1313) or maybe it's just a test run to see if fans embrace this dark slice of Star Wars. Either way, we'll see this game way before we get the show.
Do you think this game sounds cool? Is there a link to the TV show?