Release Dates: 'Independence Day' 3D Re-Release, 'Dawn Of The Planet Of The Apes,' 'X-Men First Class 2' Coming Summer 2014, 'Robopocalypse' Pushed And More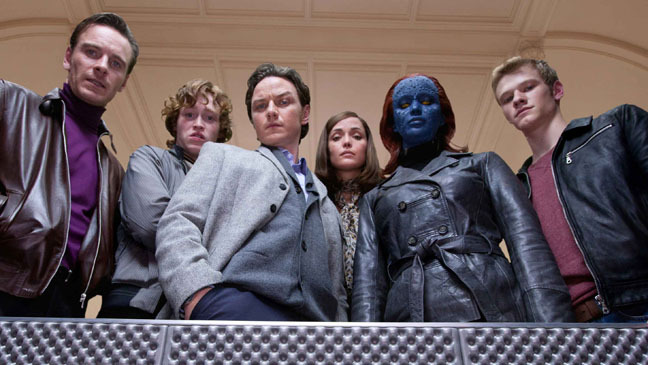 A bevy of major release date announcments and shifts were just revealed. Here goes.
The Rise of the Planet of the Apes sequel is now called Dawn of the Planet of the Apes, and has been dated May 23, 2014.
A 3D re-release of Independence Day will hit July 3, 2013.
The untitled sequel to X-Men First Class will hit on July 18, 2014 with Matthew Vaughn directing.
Steven Spielberg's Robopocalypse has been pushed from 2013 to April 25, 2014
The Secret Life of Walter Mitty, directed by and starring Ben Stiller, has been dated for Christmas 2013 along with Walking With Dinosaurs.
Percy Jackson: Sea of Monsters hits August 16, 2013
Sandra Bullock and Melissa McCarthy's untitled Paul Feig-directed comedy lands April 5, 2013.
Lots to digest here. We've got it after the jump.
The three biggest pieces of news are the 3D conversion of Roland Emmerich's Independence Day and the dating of sequels to two of 2011's surprise hits, Rise of the Planet of the Apes and X-Men First Class. Both of those films have been in the writing stage but it's a good sign that the studio is confident enough in the work to move forward and plant their flag. (Also, gotta love the title Dawn of the Planet of the Apes. Perfect.) As for ID4, it seems like a good bet that the 3D re-release could be to see if audiences are still excited and inspired by that movie and maybe want to see a sequel.
The Robopocalypse move isn't that surprising. Spielberg is scheduled to shoot the film this fall as he simultaneously finishes Lincoln. But Lincoln's release date is much more important as he wants to get it out in time for consideration in this year's Oscars. Plus it's an election year. The extra time for Robopocalypse will prevent the director having to rush through either film. It was starting to sound like he might have to rush with a July 2013 date for Robopocalypse just a year away.
As for The Secret Life of Walter Mitty, the remake directed by starring Ben Stiller along with Sean Penn, Kristen Wiig, Patton Oswalt and others, has been shooting in New York and as it's a big, family comedy, a Christmas release date makes plenty of sense.
Here's the press release with all the rest of the information:
On the heels of the $344 million worldwide success of TITANIC 3D, the studio and director Roland Emmerich, in conjunction with Stereo 3D, which did the work on TITANIC, will produce a top quality 3D version of the iconic INDEPENDENCE DAY. ID43D will be released worldwide on July 3, 2013.
The studio also staked its 2014 summer with three giant tentpoles. First up, Fox, together with Disney and Dreamworks, has shifted the release of Steven Spielberg's epic ROBOPOCALYPSE to go worldwide on April 25, 2014, the same weekend that "Avengers" was released internationally this year. Disney distributes domestically. (ID43D now occupies its former release date.)
Then on Memorial Day (May 23, 2014), Fox unleashes DAWN OF THE PLANET OF THE APES worldwide, the sequel to the $483 million grossing RISE OF THE PLANET OF THE APES. Rupert Wyatt, who helmed the 2011 smash, returns to direct. The returning producers are Peter Chernin, Dylan Clark, Rick Jaffa and Amanda Silver.
And on July 18, 2014, Fox releases worldwide the third of its summer tentpoles, the currently untitled X-MEN, to be directed by Matthew Vaughn.
Fox also announced its Christmas 2013 line-up, with THE SECRET LIFE OF WALTER MITTY, starring Ben Stiller and Kristin Wiig, and directed by Ben Stiller, set for Christmas Day. Samuel Goldwyn, John Goldwyn, Stuart Cornfeld and Ben Stiller produce the film.
Also for Christmas, the studio will shift WALKING WITH DINOSUARS from October 11 to December 20, 2013. The film is based on the massively successful TV series and live show, which has grossed more than $250 million in box office worldwide.
Other 2013 dates include the following: PERCY JACKSON: SEA OF MONSTERS, based on Rick Riordan's publishing phenomenon, goes out August 16, 2013, moving from March 15. And Fox earlier announced that Beyoncé Knowles would headline the voice cast of EPIC, in theaters May 24, 2013, from the makers of "Ice Age" and "Rio." The film was previously known as "Leafmen." Also joining the cast are Josh Hutcherson, Amanda Seyfried, Johnny Knoxville, Aziz Ansari, Jason Sudeikis, Steven Tyler, Blake Anderson and Judah Friedlander. ??
Lastly, an as-yet-untitled comedy starring Sandra Bullock and Melissa McCarthy, directed by Paul Feig (BRIDESMAIDS) will land in theaters April 5, 2013.
Are you happy these Apes and X-Men sequels are coming out in 2014? Will you see an Independence Day 3D release?
Source: The Film Stage/Jeff Sneider/Deadline