'Fraggle Rock' Will Now Be Written By 'Rango' Veterans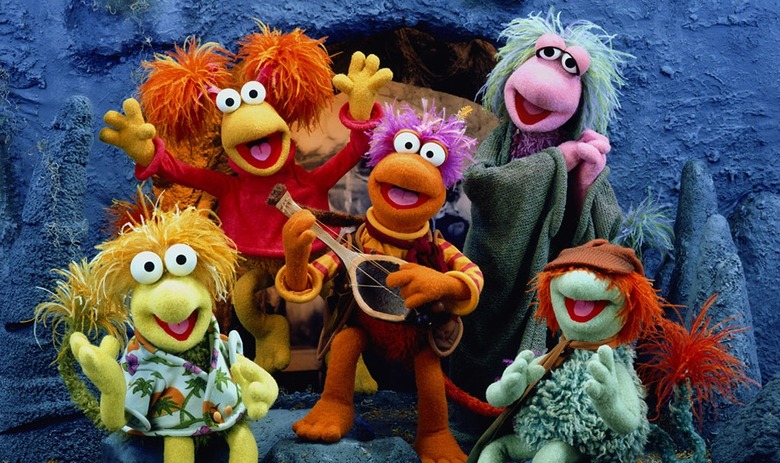 A movie version of Jim Henson's '80s musical TV show Fraggle Rock has been in the works for years, and development took a good step forward when New Regency started backing the project last year.
There has been speculation over whether the new film would feature classic puppets or CGI characters, though the success of The Muppets would lead one to think puppets will get another chance here. We do know one thing, however: the feature has new writers. Jim Byrkit and Alex Manugian, both of whom worked on Gore Verbinski's beautiful Oscar-nominated film Rango, will script.
THR doesn't have any details on what the pair plan to do with Fraggle Rock, but the smart, weird, and fun tone of Rango is certainly a good touchstone. (Fraggle Rock is a very different thing, yes, but many of Rango's qualities would compliment the basic concept of the singing cave-dwelling Fraggles.)
We shouldn't make too much of the Rango link just yet, however. Byrkit co-authored the film's story and did storyboard work on that and the Pirates of the Caribbean films, and has credit as director of the Rango video game. Manugian has voice credits in Rango and is a former Cartoon Network exec. So it's not as if the pair are the prime architects of Rango. The pair also wrote Fleeced, which Disney is developing.
This is the description of Fraggle Rock from the Jim Henson website.
Premiering in January 1983, this wonderfully inventive program was designed to entertain while encouraging an understanding and embracing of diversity. From a fun-loving group of furry subterranean creatures came 96 total episodes, 100 original songs and millions of fans from around the world. Through the fun adventures of the Fraggle gang – Red, Gobo, Wembley, Boober, Mokey and Uncle Traveling Matt – the show captured the hearts of children and adults alike while featuring a unique mix of music that included a number of genres, from folk, blues and gospel to country and rock. The show was seen in 98 countries and secured several prestigious awards, including three Cable ACE Awards and five International Emmys.
Premiering as one of HBO's first original series, "Fraggle Rock" was created as a way to show the world how to live in peace. Within the show are three different communities: the home of Doc, an inventor, and his dog, Sprocket; the world of the upbeat Fraggles, who share the caves of Fraggle Rock beneath Doc's house with their small neighbors, the Doozers; and the Gorgs, gigantic creatures who inhabit Gorg's Garden. Through these different communities "Fraggle Rock" shows how we can all work together towards common goals.