New Photos: Sofia Coppola's 'Bling Ring' With Emma Watson, Kevin Spacey And David Fincher's 'House Of Cards'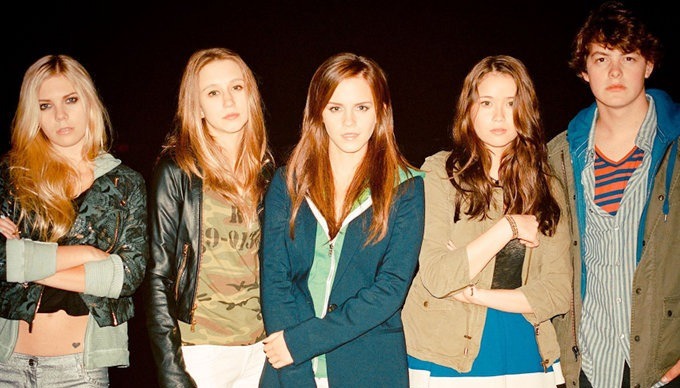 Let's look past the current summer movie for just a second to take a look at a couple of works that are a bit farther off on the horizon. Sofia Coppola's fact-based The Bling Ring stars Harry Potter actress Emma Watson as the leader of a band of fame-obsessed thieves who steal from the likes of Paris Hilton and Lindsay Lohan, while David Fincher's Netflix miniseries House of Cards stars Kevin Spacey as a ruthless politician who'll stop at nothing to claw his way to the top. Check out the first official photos from both after the jump.
[via EW]
While a few set photos of Watson in The Bling Ring have already hit the web, this is our first official still from the film. Watson's still best known for playing sweet, bookish good girl Hermione Granger, and her smart real-life persona (she attends Brown University) suggests that the actress herself isn't entirely unlike her most famous character. So it'll be fun to see her playing against type as a criminal bad girl.
Israel Broussard, Taissa Farmiga, Katie Chang, Claire Pfister, Georgia Rock round out the rest of her crew, and Carlos Miranda and Leslie Mann also star. The Bling Ring has no release date set at this time, but is likely to hit theaters sometime next year.
The new glimpse of Spacey and Robin Wright in House of Cards isn't quite as exciting, since all we really see is Spacey looking glammed up in a tux. But we're looking forward to the series all the same. It's an adaptation of the acclaimed 1990 British miniseries about a callous politician with big aspirations. Fincher and Spacey are executive producing, with Fincher set to direct the first episode. With pedigree like that, I can't imagine it won't at least be worth a look.
The American version sees Spacey in the lead as he tries to climb to the White House, while Wright plays his similarly ambitious wife. As Spacey puts it, "it ain't your daddy's West Wing." House of Cards will hit Netflix sometime in 2013.