'E.T.: The Extra-Terrestrial' Blu-Ray Trailer And Box Art [Updated]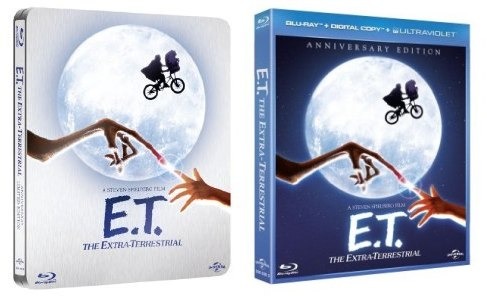 The summer once belonged to Steven Spielberg, and while he doesn't have a film out this season, we do have something to look forward to from the original blockbuster director. His 1982 film E.T.: The Extra-Terrestrial is coming to Blu-ray sometime soon, and while we don't have a release date or expanded feature list we do have a trailer for the release that suggests it features a digital remastering, 7.1 surround sound and "hours of bonus features".
And for those who want to know for certain that this is the original theatrical version of E.T., just check out the trailer for the new release, below. One of the shots in which shotguns were replaced with walkie-talkies is very clearly shown, and the guns are there, as they were in the original theatrical release. Thanks, Mr. Spielberg!
Update: Bumped this because we now know that the Blu will be released in October. THR says the disc will indeed feature the '82 theatrical version of the film (as Spielberg promised last year) and "exclusive footage from the set of the film [and] a new interview with Spielberg."
The art above is early art that's floating around and might not be final, but it's a good indicator of what we can expect. [via Engadget]