New 'Django Unchained' Stills Feature Jamie Foxx, Leonardo DiCaprio, Christoph Waltz, And Quentin Tarantino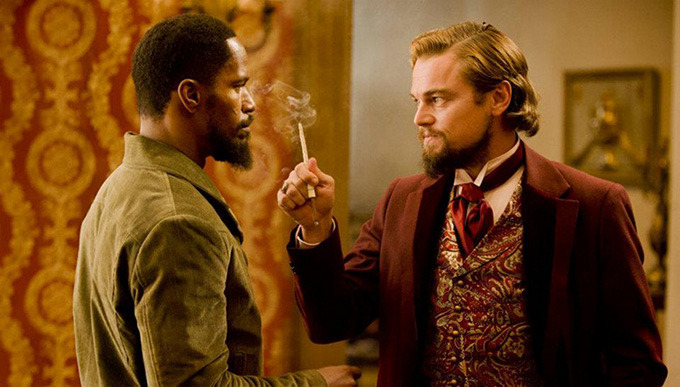 If you weren't lucky enough to be at Cannes when the first footage of Quentin Tarantino's Django Unchained hit, you'll have to wait until Prometheus' June 8 opening to check out the teaser. But we do have a peek at some new images from Tarantino's "Southern-fried spaghetti Western" right now.
Jamie Foxx stars as the title character, a freed slave, who enlists the help of German bounty hunter Dr. King Schultz (Christoph Waltz) to rescue his wife Broomhilda (Kerry Washington) from the clutches of vicious plantation owner Calvin Candie (Leonardo DiCaprio). Hit the jump for stills of Foxx, Waltz, DiCaprio, and Tarantino himself.
[via The Playlist]
DiCaprio, Waltz, and Foxx look pretty much the same as they have in previous photos, down to the costumes, so Tarantino is really the only new character we get to see here. It's also nice to get a better look at what I'm assuming is Candie Land, the brutal plantation owned by DiCaprio's character, after getting a hint of it in earlier photos.
Although Django Unchained is still in the middle of filming, it's already garnering some great buzz thanks to the footage shown at Cannes (not to mention its illustrious director and top-shelf cast, of course). All three leads are already raking in tons of compliments for their work, and there's been a lot of talk about how funny Django Unchained winded up being despite its potentially edgy subject. Check our previous post for more on the early reactions.
But as for the actors themselves, at least one sees the film as being less about slavery or comedy than about, well, love. Foxx told Empire:
When this movie's done, there's gonna be some hot button issues but, given my background, I think I'll be able to get some points across. The one thing that stuck out to me in the script was that Django was married. Back then, to be married was taboo. This is a love story. He's not trying to stop slavery. He's not trying to do anything but find the love of his life – which is like trying to find a needle in a world of haystacks.
Well, put that way, Django Unchained sounds downright romantic. A moving love story, intense characters, and plenty of comedy — is there anything Django Unchained doesn't have? The Weinstein Co. will roll out the film December 25.