Cool Stuff: 'Community' Themed Art Show 'Six Seasons And A Movie'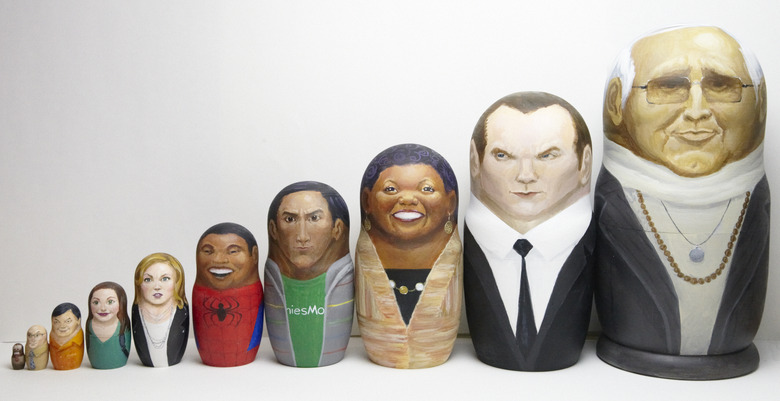 Fans of NBC's Community are passionate, vocal and apparently really talented artists. As the good news/bad news behind the show recently stole headlines (a new season/no Dan Harmon) the PixelDrip Gallery in Los Angeles decided it was a great time to host an exhibit of art based on the hilarious comedy. The exhibit is called Six Seasons and a Movie, a popular mantra among Community fans, and will feature artistic interpreations of all the show's stars like Joel McHale, Gillian Jacobs, Danny Pudi, Yvette Nicole Brown, Alison Brie, Donald Glover, Jim Rash, Ken Jeong and Chevy Chase.
After the jump, check out a bunch of images from the exhibit, which is open June 23-24, as well as read the full press release with a list of artists and much more.
Six Seasons and a Movie, presented by PixelDrop Gallery, will be on display on June 23-24 from 11 a.m.-6 p.m. at Monk Space, 4414 West 2nd St., Los Angeles, CA. Here's just a small sampling of the art. Mouse over each for the artists name.
And here's the full press release. Keep it locked on PixelDrop for updated information.
The PixelDrip Gallery is proud to announce the Six Seasons and a Movie art show. Hosted at Monk Space in Los Angeles on June 23-24, the event will be a weekend celebration of all things "Community" as interpreted through the vision of over 130 artists from around the world. Much like how "Community" isn't just a sitcom, the Six Seasons and a Movie art show isn't just an art exhibit. It is an event organized by fans meant to serve as a physical focal point for the show's fans to gather.
Mark Batalla, curator and manager of PixelDrip said:
"We continue to be astonished and humbled by the artists that have agreed to participate in the art show. Any of these individuals is talented enough to have their own solo exhibit. Having the opportunity to gather their artwork under the same roof is a dream come true and one we would like to share with as many people as possible. We are also honored to have artists that have worked on 'Community,' such as Rob Schrab, Megan Ganz, Jim Mahfood, and Myke Chilian. The cast and crew's close relationship with the fans is one that separates 'Community' from many television shows. This is our heartfelt tribute to both  'Community' and its fanbase."
Exhibited artwork will range from framed and canvas pieces to vinyl toys, dioramas, and plush dolls. Additional artwork and video shorts will be on display via projector and monitors. Among the interactive elements are several video game demo kiosks and a table with three college textbooks that attendees can artistically vandalize. Monk Space itself will be transformed to give attendees a genuine Greendale experience. Attendees are also eligible to win prizes through raffles, the costume contest on Saturday, and the trivia contest on Sunday.
Throughout the event, the PixelDrip crew will also be shooting a documentary of the exhibit that will be distributed to the various backers of the art collective. Attendees should be aware that they are likely to appear on camera. Release forms will be available to fill out as necessary.
Admission is free to the public. In addition to markets, restaurants, and supply stores in the immediate area, there will be a food truck parked just outside the venue during exhibit hours. The exhibit will be open from 11am to 6pm on Saturday and Sunday. Monk Space is located at 4414 West 2nd Street, Los Angeles, CA 90004. Further announcements concerning the Six Seasons and a Movie art show will be revealed leading up to the event.
The current artist roster as of this release includes:
Alice X. Zhang / Annis Pekka / Arica Houy / Arran McKenna / Aviv Or / Balen / Bannon Rudis / Ben DeGuzman / Ben Steeves / Bethany Sellers / Bobby Rubio / Brendan Suleiman / Bumbledom / Caanan Grall / castlepöp / Chip's Challenge / Chris McVeigh / Chris Schweizer / Claire Hummel / Clayton Chowaniec / Craig Arndt / Crystal Fontan / Dan Hipp / Dave Perillo / Dave Stenken / Douglas Holgate / Eric Anderson / Erica Henderson / Fro / Fungus / Giordano Casanova / Glen Brogan / Heather M. Morris / Hector Lowe / Henry the Worst! / Howard M. Shum / Ian Richens / Ive Sorocuk / J. Salvador / Jack Cusumano / James Stayte / Jeff Pina / Jeff Victor / Jen Ann Bennett / Jennifer Jeong / Jennifer Steadman / Jennifer Vo / Jessica Bradley / Jim Mahfood / Joëlle Jones / John Murray / Jon Defreest / Jonathan Mann/ Jonny Eveson / Jordan Allen / Joshua Budich / Joshua McGrane / Julieta Colas / Justin Crisostomo / Kali Fontecchio / Karen Hallion / Karina McBeth / Karoleen Decastro / Kasey Albano / Katie Sekelsky / Kevin Woody / Kristin Murphy / Kyle Kulakowski / Kyle McCoy / Leesasaur / Leigh Young / Len Peralta / Lou Studdert / LoveTHYconan / Lucy Knisley / Lusy DeCoursey / Mark Batalla / Mason Phillips / Matt Greenholt / Matt Parsons / Max Wittert / Mbecks14 / Megan Ganz / Megan Lara / Michael Mayne / Mike Horowitz / Ming Doyle / Myke Chilian / Nancy Pham / Natalie Nourigat / Nik Holmes / Otis Frampton / Rad Sechrist / Ramsey "Raz" Sibaja / Rebecca Hayes / Rob Cham / Rob Schrab / Rosemary Travale / Rowan McKeough / Rusty Shackles / Sam Filstrup / Sam Spratt / Sanjit Kaur / Sean Mills / Sophie Iannuzzi / Stephan Krosecz / Steven Ray Brown / Taryn Gee / Timothy Lim / Tom Trager / Tomas Overbai / Tony Bui / Valeria Herrador / Vanessa Stefaniuk / Vanessa Zucker / Victor Camba / WinterArtwork / Yasmin Liang / Zach Allen / Zneuse